Special Report
Happy 200th Birthday, Charles Darwin
The evolution of the most powerful idea in science, originated by a man who was born in Shrewsbury, England, on February 12, 1809. Here's how Darwin's theory survives, thrives and reshapes the world
The Sciences
An "interview" with Charles Darwin in which he describes how he became a student of nature, his initiation into the theory of evolution, and his religious scruples. It seemed he knew the trouble he was getting into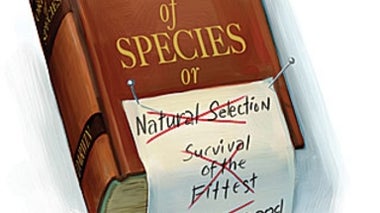 The Sciences
On the 200th anniversary of Charles Darwin's birthday two myths persist about evolution and natural selection
February 1, 2009 — Michael Shermer
The Sciences
200 years after the birth of Charles Darwin, his theory of evolution still clashes with the creationist beliefs of some organized religions. For him personally, it meant the end of his belief in creation by God
February 12, 2009 — Christoph Marty
When the scientific establishment put a spiritualist on trial, the co-discoverers of natural selection took opposing sides


The greatest scientists often become the centerpiece of theater or musical works that expropriate their images and ideas as emblems of a particular historical era.
...about intelligent design and evolution
Fossil remains show that some plant species believed to have invaded the Galapagos islands about 500 years ago are in fact natives. Ecologists can examine fossil remains to determine what really belongs in a given habitat. Adam Hinterthuer reports
Does natural selection drive evolution at levels higher than selfish genes and fertile individuals?
Scientific American Editor in Chief John Rennie discusses the special January issue of the magazine, which focuses on evolution--2009 being the 200th anniversary of the birth of Darwin and the 150th anniversary of the publication of The Origin of Species. Subjects in the issue include the importance of natural selection, the sources of genetic variability, human evolution's past and future, pop evolutionary psychology, everyday applications of evolutionary theory, the science of the game Spore, and the ongoing threat to science education posed by creationist activists. Plus, we'll test your knowledge about some recent science in the news. Web sites related to this episode include www.SciAm.com/jan2009
The naturalist would approve of how evolutionary science continues to improve
Darwin historian Richard Milner shares some of the lesser known aspects of Darwin's life. And Scientific American columnist Michael Shermer talks about the stock market, religion and other belief systems. Plus, we'll test your knowledge about some recent science in the news. Web sites related to this episode include www.darwinlive.com; www.michaelshermer.com
Understanding of evolution is fostering powerful technologies for health care, law enforcement, ecology, and all manner of optimization and design problems
Some 180 years after unearthing the first human fossil, paleontologists have amassed a formidable record of our forebears
A Victorian amateur undertook a lifetime pursuit of slow, meticulous observation and thought about the natural world, producing a theory 150 years ago that still drives the contemporary scientific agenda
In 1925 a Tennessee teacher of biology named Thomas Scopes was tried for teaching the theory of evolution. An expert witness at the trial relates how evolution lost in court but won in the eyes of the nation