Special Report
Dawn Spacecraft Meets a Strange, New World
NASA's Dawn spacecraft has entered orbit around the dwarf planet Ceres, one of the most geologically interesting objects in the solar system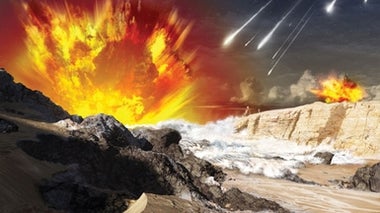 Space
To discover the origin of the oceans, scientists are investigating our solar system's farthest reaches and earliest moments
March 1, 2015 — David Jewitt and Edward D. Young
Space
Spectacular new images are trickling in from NASA's mission to a dwarf planet in the Asteroid Belt
March 2, 2015 — Lee Billings
Space
Shortly after 7:30 am Eastern time this morning, a seven-year space voyage at last reached its final destination: NASA's Dawn mission entered orbit around Ceres, a small, icy world orbiting the sun between Mars and Jupiter.
March 6, 2015 — Lee Billings
NASA's Dawn mission, having performed remarkably at the asteroid Vesta, is homing in on Ceres. The spacecraft's ion engines will bring it to a capture orbit around this 590 mile diameter dwarf planet on March 6th, 2015 – at a distance some 2.5 times further from the Sun than the Earth.
Spectacular new images are trickling in from NASA's mission to a dwarf planet in the Asteroid Belt
On September 5th NASA's Dawn spacecraft left the asteroid Vesta and set sail for the dwarf planet Ceres, where it will arrive in 2015. John Matson reports