Special Report
The Future of Deep-Space Exploration
When humankind once again ventures out from Earth's neighborhood, where will we go? And how will we get there?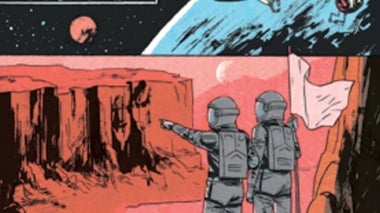 Space
By adapting ideas from robotic planetary exploration, the human space program could get astronauts to asteroids and Mars cheaply and quickly
December 1, 2011 — Damon Landau and Nathan J. Strange
The Sciences
How a spacecraft propelled by ion drives could deliver humanity deeper into space than ever before. Read more in our special report on deep-space exploration
Space
Once the U.S. regains its ability to send humans into deep space, there's more than one nearby planet for them to explore
November 29, 2011 — Michael J. Battaglia
In a Skype interview, Damon Landau and Nathan J. Strange of NASA's Jet Propulsion Laboratory talk about the radical mission proposal they laid out in the December issue of Scientific American...
In a speech from Florida's Space Coast, the president argued the case for his proposed NASA budget and outlined his vision for human spaceflight
Four decades after mankind's giant leap, a look at the harrowing first lunar landing, the Apollo missions that never flew, and how the historic event looked from the Soviet Union
40 years after the first moon walk, designers and engineers discuss the continuing evolution of astronaut apparel
The U.S. has been there, but now that many countries have joined the club of space-faring nations, which will be the first to return?
As the U.S.'s lunar landing program wound down, plans for its last three Apollo missions were canceled, leaving unused hardware and questions of what might have been
Fifty years after the first human ventured into space, we need some creative thinking
Humankind has been confined to Earth's orbital environs for decades, but plans abound for manned missions to deeper reaches of the solar system
Without a firm destination, will NASA's ambitions for a return to manned spaceflight beyond Earth orbit founder? Or, will scrapping the Constellation Program give the U.S. more options for human exploration of the moon, Mars and the asteroids?...
The Lunar Reconnaissance Orbiter, launching this week, will set the stage for the planned U.S. return to the moon by surveying locations and resources
In this episode Cornell University astronomer Jim Bell talks about future space missions and why people need to be part of them. Bell is the leader of the team operating the color cameras on the Mars rovers, and the author of the book Postcards From Mars and of an opinion piece in the August issue of Scientific American on humans in space...
The president wants to scrap NASA's space shuttle successor, now in development, and relax the agency's focus on returning to the moon
It was a first not only for NASA, but for humanity. As the world bore witness, a redesigned Apollo spacecraft, tested in space with a crew only once before, carried three astronauts to orbit the moon...