Special Report
The World Wide Web Turns 25
Today is the official birthday, but the Web was not actually born on this date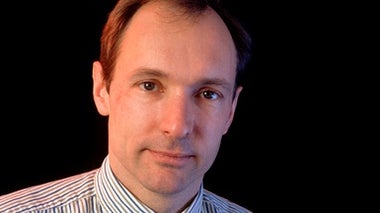 Computing
Tim Berners-Lee invented the World Wide Web and continues to shape its frantic evolution. He's neither rich nor famous, which is fine by him
March 12, 2009 — Mark Fischetti
Tech
In March 1989, Web inventor Tim Berners-Lee proposed a way to link together documents on different computers that were connected to the Internet.
March 12, 2014 — Mark Fischetti
Tech
Computer scientists, engineers and journalists converged on the CERN particle physics lab in the suburbs of Geneva, Switzerland, today to pay homage to a piece of paper—several pieces of paper, actually—that together form Tim Berners-Lee's March 1989 proposal that would come to be the blueprint for the World Wide Web...
March 13, 2009 — Larry Greenemeier
Many of the Web sites we visit every day are under cyber attack by malicious hackers looking to disrupt business transactions, discourage people from using a particular online service or exact payback for some real or perceived slight...
What drove Tim Berners-Lee to imagine this game-changing model for information sharing, and will its openness be its undoing?
The LHC Computing Grid may teach the Internet how to quietly handle reams of information
Understanding how novelty emerges from complex systems is a new frontier
Studying the Web will reveal better ways to exploit information, prevent identity theft, revolutionize industry, and manage our ever-growing online lives
Scientists at Bell Labs, Harvard--M.I.T. and the University of Leicester are among the finalists for the $1.8-million Finnish award
A new form of Web content that is meaningful to computers will unleash a revolution of new possibilities
Everything you ever wanted to know about the Web's first days
M.I.T.'s Laboratory for Computer Science is developing a new infrastructure for information technologies--the Oxygen system--that promises to realize a vision long held by the lab's director: helping people do more by doing less...
Corporate applications are well under way, and consumer uses are emerging