Special Report
The 2012 Transit of Venus
Venus will pass in front of the solar disk on Tuesday, June 5. The next transit will not occur again until 2117, so don't miss one of the rarest of sky shows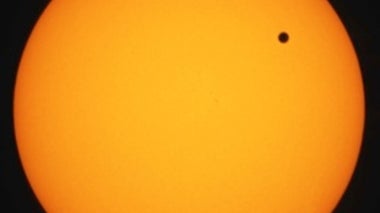 Space
Next week will be the last opportunity this century to see the planet Venus as a little black dot moving across the solar disk--a rare event with a long, important history in astronomy
May 31, 2012 — Jay Pasachoff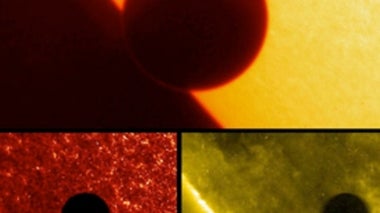 Space
Musser, who covers space for SA, will help us prepare to watch Tuesday's transit and explain the science behind this rare astronomical event
June 5, 2012 — THE EDITORS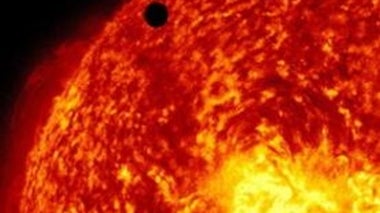 Space
To celebrate the last transit of Venus in the 21st century, astronomers and skywatchers came together in many sites around the world
June 6, 2012 — Tariq Malik and SPACE.com
My family is gearing up for a big weekend of science in New York City. First, there's the annual World Science Festival, which this year is bringing free activities like bug hunting, weather forecasting and marine ecology research to Brooklyn Bridge Park among many other locations.
A French astronomer traveled to Siberia to observe the 1761 transit of Venus, assisting in a worldwide effort to determine the scale of the solar system for the first time
The transit of Venus in December 1882 Today offers a final opportunity for 21st century stargazers to observe a transit of Venus. For those of you who forgot to bring your telescope to work today, we've got a guide for viewing the transit both indoors and outside.
A built-in timer allows users to calculate the length of the planet's shadow on the solar disk to reproduce an experiment done in the 19th century with less precise instruments
Three views of the 2004 Venus transit. Credit: NASA In a matter of hours, lucky observers with clear skies will be able to watch Venus pass in front of the Sun.
Are you sick of reading about the transit of Venus this year? Yes? Me too. But the fact is that when astrophysical objects move between us and something else, like the convenient blaze of a star, there is an extraordinary amount that can be learned.
Amateur astronomer Jeremiah Horrox was the only person in England, and possibly the entire world, convinced that a Venus solar transit would occur in 1639, an event that Johannes Kepler himself had failed to predict
When Venus crosses the face of the sun this June, scientists will celebrate one of the greatest stories in the history of astronomy
The Venus transit offers a chance for modern-day stargazers to repeat the experiments conducted by expeditions around the world in the 18th and 19th centuries--with a modern twist
I couldn't sit back and NOT see something that only comes through every 105 years. So I got off of my duff, drove down to Oklahoma City to the Oklahoma Science Museum to see the Transit of Venus They passed out these Eclipse Shades.
With a transit of Venus coming up on June 5th or 6th in different parts of the world, Mark Anderson, author of the book The Day The World Discovered the Sun, talks about the great efforts to track the transits of Venus in the 1760s and the science they would produce
Mark Anderson, author of the book The Day The World Discovered the Sun, talks about the transit of Venus coming up on June 5th or 6th in different parts of the world and how it will be of use to astronomers searching for exoplanets