In November 2019, Lewis the koala instantly became a symbol of the tragic plight his species faces in Australia. Local residents found him limping along the hot pavement near Port Macquarie, desperate to escape flames of the Long Flat bushfire that were lining the road and turning his forest home to ash. The burned marsupial appeared disoriented, struggling to survive. Good Samaritans quickly nabbed the animal, poured bottled water over his singed fur and paws, and bundled him up.
They took Lewis to Port Macquarie Koala Hospital, a small clinic by a eucalyptus grove on the north coast of New South Wales. The hospital would ultimately treat around 50 burned koalas by the time the country's record-breaking season of bushfires was extinguished in May 2020. "We didn't treat as many as we thought we would," says the hospital's director of breeding and research, Cheyne Flanagan, because "so many perished in the fires." It's estimated that the state lost at least 5,000 koalas—as much as a third of its population. Across Australia, at least 60,000 koalas died or were harmed in the fires. In 2016, experts estimated there were around 329,000 koalas left in the country. Sadly, Lewis succumbed to his injuries weeks after the rescue.
As fires blackened Australia's bushland, the koala hospital had campaigned to raise 25,000 Australian dollars ($19,250) to aid the animals' rehabilitation. Donors sent nearly eight million Australian dollars ($6.1 million), far exceeding the money needed to care for the handful of koalas at the clinic. Anxious to help the vulnerable species bounce back, the hospital recently launched the world's first wild-koala breeding and release program, to repopulate Australia's devastated forests. Although zoos have long bred captive koalas for tourists to visit, no one has attempted to breed wild individuals and introduce their captive-born young to the bushland. Conservationists say that without such intervention, koala populations may never naturally recover. Even before the fires, the marsupials faced a long list of threats, including disease, inbreeding and pressures from urbanization. Still, wild breeding has serious challenges. In the years to come, hospital staff will need to answer many questions about the koala's prospects—not least of which is where to put them.
Much of the appropriate habitat has already burned, or is likely to burn in the coming decades as climate-driven wildfires intensify. During the 2019–2020 fires more than eight million acres of eucalyptus forest were destroyed in New South Wales—at least a quarter of the state's quality koala habitat. When scientists later surveyed 123 field sites across eastern Australia to look for surviving koalas, they found that the fires had eliminated about 71 percent of the populations there. Some sites seemed to have no koalas at all.
Koalas likely fared worse in the fires than any other iconic Australian species. Kangaroos can flee; wombats can burrow. But the koalas are in the canopy. "That's a recipe for disaster," says Mark Krockenberger, a veterinary pathologist at the University of Sydney.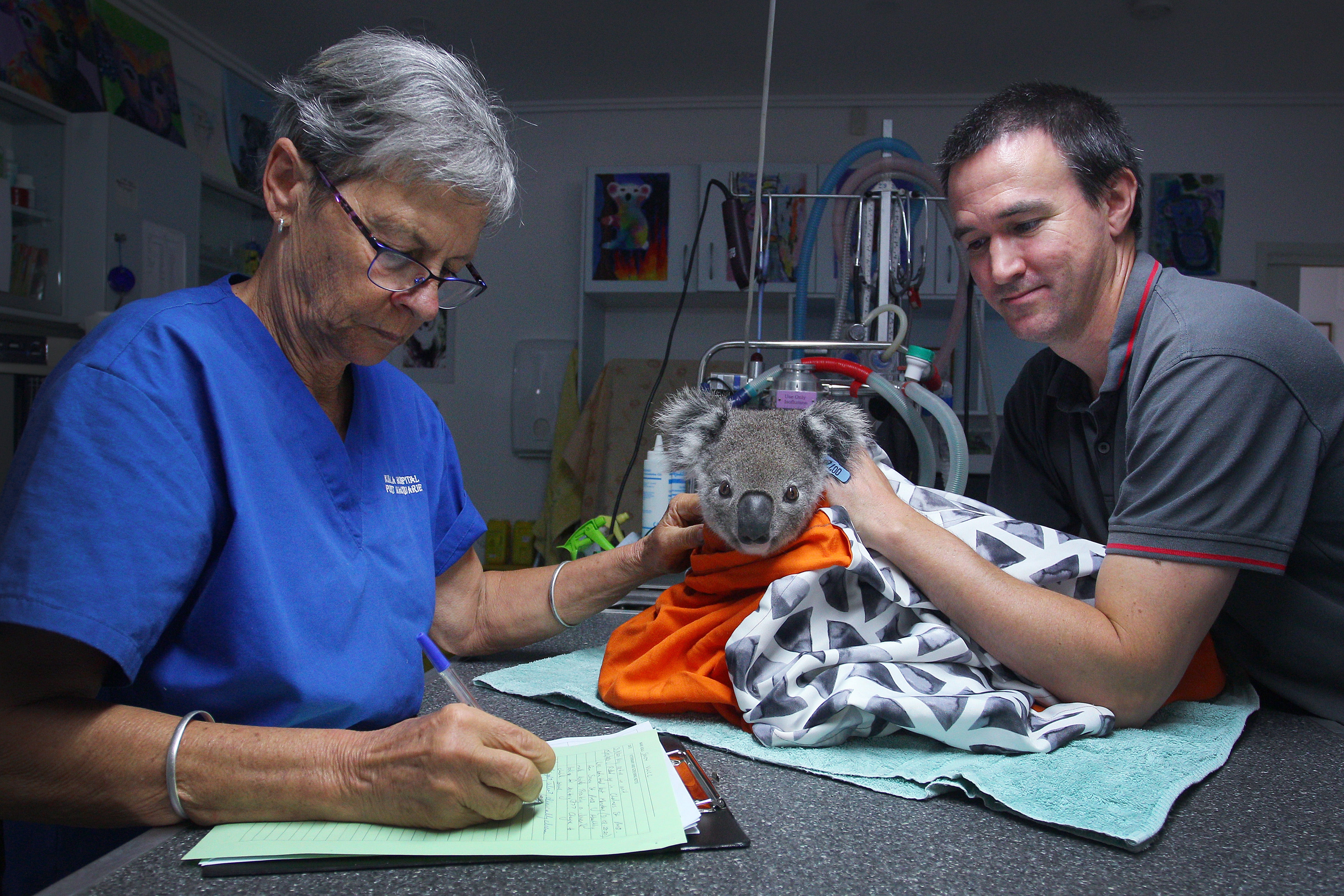 Natural repopulation is slow because a female koala will have only one baby (referred to, like other infant marsupials, as a joey) every year, and if the surrounding environment is too hot or too dry, the animals often won't breed at all. Koalas have also been hit especially hard by chlamydia, a sexually transmitted disease that attacks the animal's reproductive system. "In some populations, infertility is very high," Krockenberger says. As many as 70 percent of koalas might be infected, and 90 percent of those animals are infertile.
Scientists such as Stephen Johnston, a zoologist at University of Queensland, think they can improve productivity in captivity. He's found that wild male koalas have poorer quality semen than captive individuals because of environmental stressors. Once those stressors are removed, "the semen of those in captivity is [threefold] better." Koalas breed well in captivity compared with other threatened species, too, but without the infusion of wild genes, captive koalas have lower levels of genetic diversity. Their offspring alone would be insufficient to restock wild populations. Moreover, breeding is only half the battle. The greater challenge for wildlife managers will be ensuring the captive-born offspring can survive in the wild by finding safe, suitable release sites.
Port Macquarie Koala Hospital hopes to keep as many as 60 koalas on site for eventual release back into coastal areas. Flanagan says the plan is to mate mostly nonreleasable wild koalas with one another. These will be disease-free individuals brought into the clinic for various injuries and that, once recovered, cope well in captivity. Staff will then release their joeys to the wild. "It's an enormous job. All the [offspring] will be released with radio collars and tracked for six months to see how they fare.
The hospital will begin building a new breeding facility in late 2021, funded by the public's donations. Joeys will be raised here and later placed in a semiwild, prerelease enclosure where they can socialize before they're introduced, as a group, to the bushland. Staff will also feed the joeys eucalyptus species from their target release site to acquaint the koalas' taste buds with the new food source.
To qualify for release to the wild, the joeys will need to meet several standards. New South Wales law requires that captive-bred animals be healthy and free of disease for release—a big challenge when it comes to the beleaguered marsupials. Johnston serves as chief investigator for the Living Koala Genome Project, which aims to use captive breeding, advances in genome sequencing and chlamydia vaccination therapy to "future-proof" koala populations. He's in talks with the Port Macquarie hospital about how they might use this technology to aid their efforts. At the University of Queensland, the research team has been treating diseased wild koalas and crossbreeding them with individuals from other populations to diversify the gene pool. The goal is to later release the captive-born joeys so they can spread their unique genes among wild populations. Over time healthier koalas should replace those susceptible to disease and inbreeding. "It's not just about producing koalas," says Johnston, "but more about genetic rescue and management, which can be delivered through captive breeding."
Other technological advances may be able to help Port Macquarie, too. In February, scientists released a new three-dimensional "chromosome-length" sequence of the koala genome. It can help create a map of genetic diversity among populations and the susceptibility to disease. "It can show us how the population is connected and how the gene flow is happening," says Parwinder Kaur, director of DNA Zoo Australia, who oversaw the project. "After a bushfire, you really want to see how the gene flow was broken."
Even as conservation science progresses, politically, koalas remain a contentious topic. The New South Wales government recently reported that the species is on track for extinction in the state by 2050. Subsequently, the environment ministry set an ambitious target of doubling the population by mid-century. However, the government has continued to approve destructive operations in key koala habitat. "The current legislation in New South Wales does not really protect koalas at all and tends to favor mining and agriculture," Flanagan says. Breeding is certainly needed but it's not the panacea, she notes. "The best thing to save koalas is the conservation of existing habitat—restoring degraded areas, population management and fire control." In the coming months, New South Wales is expected to release an updated strategy for koala conservation. (The last strategy was published in 2018, before the devastating fires.) And this October, the federal government will announce whether the East Coast populations should be listed as nationally endangered.
The wild breeding program will be run as a pilot project for the first three to five years. This, Flanagan says, will give scientists time to study potential release sites and work with rural fire services and the government to improve fire management in koala habitat. By mid-2022 the breeding facility should be complete. At around the two-year mark, Flanagan expects the hospital will be ready to release joeys. And once the pilot project is well underway, the hospital hopes to begin construction on satellite breeding facilities around the state.
"We're hoping that what we do will set the scene for others [to breed and release] koalas in the future," Flanagan says.