Ancient Rock Art Got a Boost From Bacteria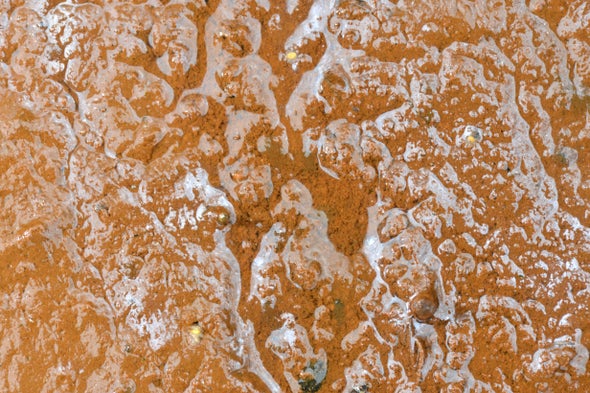 Indigenous artists in what's now British Columbia created pigments by cooking aquatic bacteria. Christopher Intagliata reports.
Modern painters usually get art supplies from a store—you want red paint, you buy red paint. But thousands of years ago, indigenous artists in what went on to become British Columbia actually cooked a slurry of aquatic bacteria to produce their distinctive red paints.
"Well, yeah, it was a long time ago; there were no art stores. That's what got us interested in exploring it further, because it was just such a complex series of steps to produce this paint."
Brandi MacDonald. She works in archaeological science at the University of Missouri Research Reactor—a nuclear reactor used for studies in a wide variety of disciplines. The paint MacDonald examined was on a fragment of ancient rock art from central British Columbia. Indigenous artists there had used a distinctive ochre pigment to paint rocks with designs of otters, fish, caribou, beavers and canoes.
Under an electron microscope, MacDonald saw tiny tubules in the paint—structures produced by a particular microbe—that tipped her off that the iron oxide pigment might be of biological origin. She later determined the pigment was produced by the aquatic bacterium Leptothrix ochracea.
"It kinda floats as this brownish auburn, orangish algal mat at the surfaces of little freshwater streams. It takes iron out of iron-enriched water and uses that as energy to grow these little colonies."
But the substance wasn't just straight bacterial paint. The microscopic structure looked like it was cooked, too, to make the pigment more durable and colorfast. To test that idea, MacDonald and her team gathered mats of this bacterium from a stream in Maine. They heated it under the electron microscope. And they saw that the minerals in the pigment crystallized—changes they'd also seen in the original sample—which would make the paint more resistant to breaking down.
The results—and links to incredible videos of that bubbling, cooking pigment—are in the journal Scientific Reports. [Brandi Lee MacDonald et al., Hunter-gatherers harvested and heated microbial biogenic iron oxides to produce rock art pigment]
MacDonald's team is now working with indigenous communities in central British Columbia to learn more about the history of rock art there and how it was produced—and to share these new microscopic insights into this ancient art.
—Christopher Intagliata
[The above text is a transcript of this podcast.]