Dolphins Dumb Down Calls to Compete with Ship Noise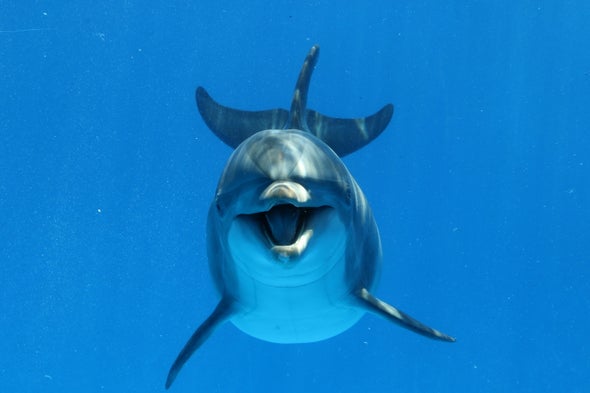 Bottlenose dolphins simplify and raise the pitch of their whistles to be heard above underwater shipping noise. Christopher Intagliata reports.
The oceans are getting louder. And coastal areas are some of the noisiest, as in this underwater recording, captured 17 miles off the coast of Ocean City, Maryland. <Maryland boat noise clip>
The noise could be a problem for marine mammals, which, like us, use sound to communicate. "Just like if we're in a noisy bar, we have to shout to each other, they might have to do that too." Helen Bailey is a marine biologist at the University of Maryland Center for Environmental Science.
She and her colleagues recorded two months of underwater sounds, in that same area off the coast of Maryland. They used automated software to fish out 200 bottlenose dolphin whistles from the noise, and visually compared the spectrograms. Here's a normal whistle. <whistle clip>
But what they found was that dolphins dumbed down the complexity of their whistles and raised their pitch, when they were competing with shipping noise. <whistle clip 2> Which apparently helps, but could also hurt, their ability to communicate.
"By using simpler calls, yes, there is a risk they're not communicating as much information as they would if it was quieter. Also for younger dolphins they actually learn these sounds from hearing other dolphins. So they're hearing this much simpler language."
The results—and a few of those spectrograms—are in the journal Biology Letters. [Leila Fouda et al., Dolphins simplify their vocal calls in response to increased ambient noise]
The survey site is the proposed future home of a wind farm - which could mean lots of noise as the huge towers are installed. Until then, it's the chronic roar of ships and boats that Bailey wants people to ponder. "I think people think about boats in terms of the emissions, just like with cars. And I think what we need to think about is sound is also an emission."
—Christopher Intagliata
[The above text is a transcript of this podcast.]