Fishy Trick Lures Life Back to Coral Reefs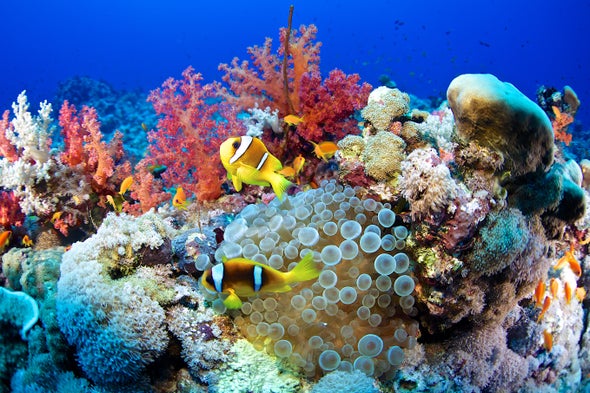 Playing the sounds of a healthy reef near damaged corals may help bring the fish community back. Christopher Intagliata reports.
Colorful corals may be the stars of the reef—but they can't thrive without a huge supporting cast.
"Fish perform a load of really important roles on a coral reef."
Tim Gordon, a marine biologist at the University of Exeter. He says some fish graze on seaweed, clearing space for new corals. Others control whole food chains.
But when reefs are bleached or damaged, the fish flee, and the reef suffers. So how do you get them back? One trick may be to play them the sounds of a healthy, vibrant reef.
[CLIP: Reef sounds]
Gordon and his colleagues played that symphony of snapping shrimp and whooping, hammering, croaking fish on underwater speakers for six weeks at a test reef built off the coast of Australia. And at the end of the trial, twice as many fish were living at that vibrant-sounding reef, compared to identically built reefs outfitted with dummy speakers or no speakers at all.
"So fish from every level of the food chain—herbivores, planktivores, omnivores, even predatory piscivores—were all being attracted by this sound."
The details are in the journal Nature Communications. [Timothy A. C. Gordon et al., Acoustic enrichment can enhance fish community development on degraded coral reef habitat]
Even though it worked, isn't it sort of false advertising?
"Yeah, in a way it is, kind of. So it's important that we think quite carefully about how we'd use this in conservation practices. This will only be useful if you're bringing fish into somewhere where it's worth bringing them to."
Restored reefs, that is. But even if you can lure fish to reefs—it's worth remembering that even healthy coral communities won't stand a chance in overheated seas.
—Christopher Intagliata
[The above text is a transcript of this podcast.]