Flowers Deceive Flies with Chemical Cocktail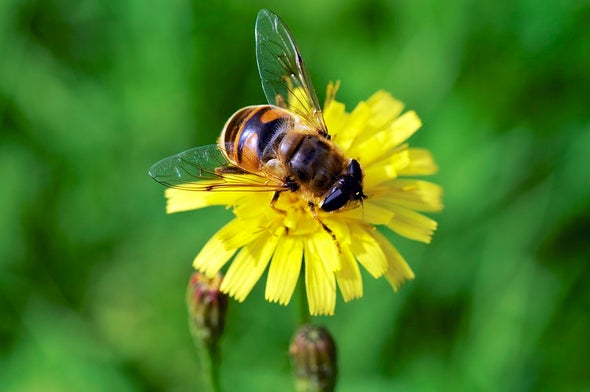 The parachute flower smells like alarm pheromones of a honeybee, to attract tiny flies that feed on bees under attack.
Honeybee stings are painful. But they're also… fragrant. "If a beekeeper gets stung by bees, it smells like banana." Dr. Stefan Dötterl, a plant ecologist at the University of Salzburg in Austria.
That banana scent, he says, is a compound called isoamyl acetate - also known as banana oil. It's one of many compounds produced when a bee stings - a mix of alarm pheromones that let the hive know that another bee's in danger.
But that chemical cocktail doesn't just attract other bees. It also draws tiny flies known as kleptoparasites, "or so-called 'food stealers'." The flies feed on the drippings of bees being devoured by spiders. And they sense the bees' chemical calls for help as a dinner bell.
Turns out, though, it's not the flies… but a flower that has the last word in this tale of trickery. Because researchers have now discovered that the flowers of a South African plant - called the parachute plant - produce nearly three dozen of the 90-some compounds in that honeybee alarm call. Meaning they mimic the scent of a honeybee in danger--to lure in and temporarily trap the flies, as a pollination ploy. The findings are in the journal Current Biology. [Annemarie Heiduk et al., Ceropegia sandersonii Mimics Attacked Honeybees to Attract Kleptoparasitic Flies for Pollination]
The plant of course isn't aware of this bait-and-switch. "It's just by chance that this plant produced these compounds and attracted these small flies as pollinators. And thus by time, it was possible to refine these plants, and to add another and another compound to finally get such a nice cocktail." A cocktail, though, that won't be followed by a meal.
—Christopher Intagliata
[The above text is a transcript of this podcast.]