From Wolf to Woof Twice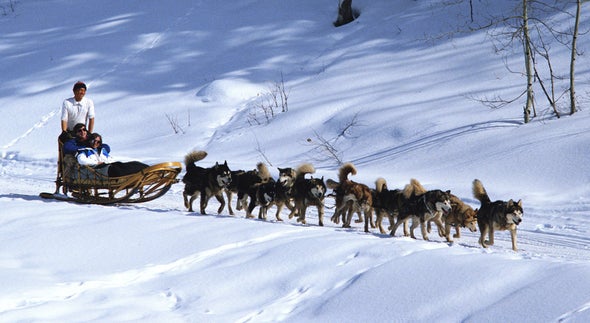 Dogs may have been domesticated from wolves twice, first in Europe, and again in Asia. Christopher Intagliata reports.
In Jack London's The Call of the Wild, a pet dog named Buck winds up in the Yukon… where he succumbs to his desire to return to his wild cousins…the wolves. [Call of the Wild clip: "It's hard to say no to that call, isn't it Buck? It's all right boy. Go ahead."]
Of course, Buck himself was the descendant of wolves. Wolves that lived more than 10,000 years ago. "At this time people would have been hunting and gathering." Laurent Frantz, a geneticist at the University of Oxford in the U.K. Humans roamed across Eurasia. They would eat, "and throw scraps around their settlement. Which attracts wildlife." Wildlife like wolves.
Over time a split would have appeared in wolf populations, he says: those wolves that feared humans, and those that didn't. "So this would have facilitated, I think, the domestication process." At which point humans deliberately took wolves as pets. But that domestication process, Frantz says, may have happened more than once: first in the west, in Europe. And again in the far east, in Asia.
Frantz and his colleagues analyzed the DNA from a 4,800-year-old Irish dog's ear bone, along with the genomes of hundreds of other modern and ancient dogs. After building a family tree, they determined that dogs could have been first domesticated in Europe, at least 15,000 years ago. But the data also point to another domestication in East Asia, more than 13,000 years ago. Sometime after that, they say, humans from East Asia wandered to Europe… and brought their dogs with them. Leading to a mixing of the two populations. The study appears in the journal Science. [Laurent A. F. Frantz et al., Genomic and archaeological evidence suggests a dual origin of domestic dogs]
Frantz says most purebred dog breeds trace their origins to the 1800s. But as this study reminds us—if you go back far enough, all dogs are mutts.
—Christopher Intagliata
[The above text is a transcript of this podcast.]