Gut Parasites Have Their Own Gut Microbiomes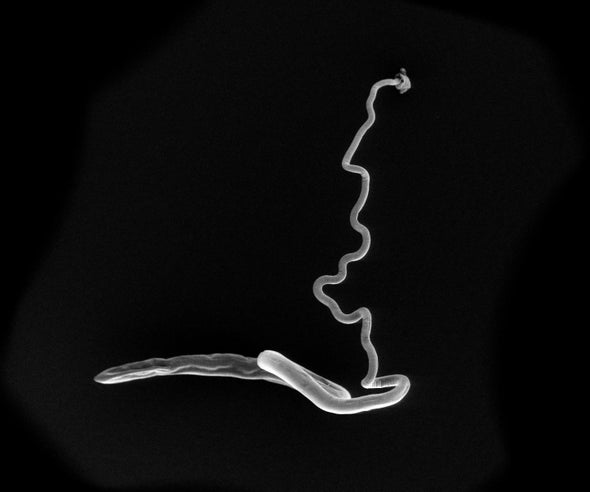 The whipworm lives in the human gut, mooching microbes from its host to build its own microbiome. Christopher Intagliata reports.
The whipworm is a parasite that infects half a billion people around the world. It lives in the gut—burying its head in the large intestine, causing symptoms like nausea, abdominal pain and diarrhea.
But the worm's place of residence also reveals a potential weakness: the parasite needs to steal some of our own gut bacteria to thrive.
"It takes them from the host and then bends it to generate a population which suits itself." Richard Grencis, an immunoparasitologist at the University of Manchester in the U.K. "So if they have bacteria, then they survive, if they don't have bacteria, they don't survive."
Grencis and his team studied that phenomenon in mice—there's a type of whipworm adapted to them, too. And they found that when whipworms hatch, they acquire a fresh microbiome derived from the host's own microbiome, but with different proportions of species. Without that host contribution, the worms die.
But the worms also induce changes in the host's microbiome—tweaking it so the gut is no longer hospitable to hatching.
"Now you'd have to ask, that seems a little bit paradoxical, because maybe the parasite wants to have more hatching rather than less." But here's the catch: Go on a hatching spree, and the host's immune system is going to take notice, and kick all the worms out.
"If the eggs don't hatch as effectively, you don't get as many new worms coming in, you delay the process of host immunity being acquired and then expelling the parasites. So it's a strategy that might have evolved to help perpetuate the life of the parasite, so it could stay there a bit longer."
The results are in the journal Science Advances. [Emily C. White et al., Manipulation of host and parasite microbiotas: Survival strategies during chronic nematode infection]
Grencis says the findings might someday lead to a way to selectively target the worms. So that whipworms no longer mooch off us—or our microbes.
—Christopher Intagliata
[The above text is a transcript of this podcast.]