Internet Cables Could Also Measure Quakes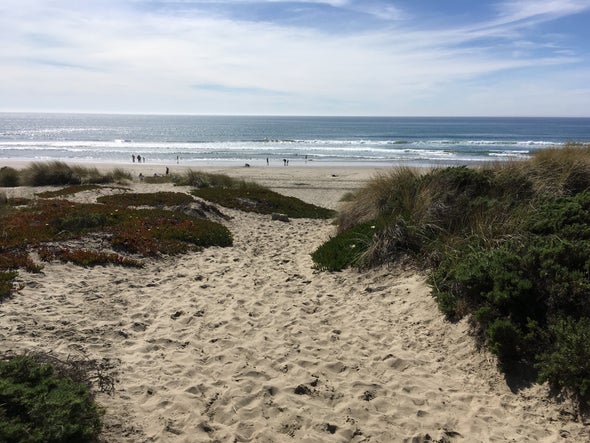 The fiber-optic cables that connect the global Internet could potentially be used as seismic sensors. Christopher Intagliata reports.
In addition to giant crustaceans and creepy anglerfish, the deep oceans hide a vital piece of technology: the cables connecting almost every continent and archipelago to the Internet. But it seems those undersea cables can be used for more than just sending cat memes around the world.
"We can do a good job picking up earthquakes in offshore cables."
Jonathan Ajo-Franklin is an applied geophysicist at Rice University and Lawrence Berkeley National Lab. He says that fiber-optic cables are like threads of glass—and there are impurities built in. So when you shoot lasers through the fibers, those impurities backscatter some of the light right back to the laser source.
"We make measurements of the change in the backscattered light over time, which gives you information on the stretch of the cable at each location."
His team took advantage of a brief maintenance period when a particular cable, off the coast of Monterey, California, was not being used for communication. The researchers studied the slight deformations in the cable and were able to sense a small earthquake, pinpoint unmapped faults in the seafloor and observe movements in the water column—all of which might be of interest to oceanographers.
Their work is in the journal Science. [Nathaniel J. Lindsey, T. Craig Dawe and Jonathan B. Ajo-Franklin, Illuminating seafloor faults and ocean dynamics with dark fiber distributed acoustic sensing]
Ajo-Franklin points out that seismometers are pretty sparse in the world's oceans:
"It's a big blank spot."
So these cables could really come in handy. And unlike for this study, you wouldn't even have to turn off the Internet to do it.
"We're looking at ways of potentially using just a small section of the spectrum, so you can communicate at the same time you can do sensing on these kinds of cables."
Which might bring more of the Earth's deep rumblings online.
—Christopher Intagliata
[The above text is a transcript of this podcast.]