Mantis Shrimp Shells May Inspire Next-Generation Computer Chips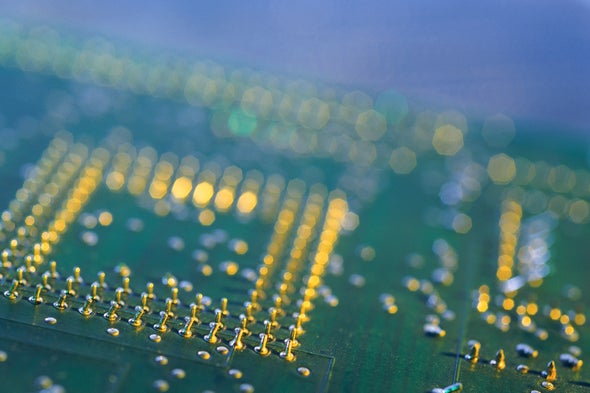 Mantis shrimp shells contain ultrathin polarizing materials, which could find use in optical computer chips. Christopher Intagliata reports.
Mantis shrimp are well known for their powerful punch… strong enough to crack aquarium glass. But they also have incredible technicolor vision. "They can see in 12 different colors, they can see in different forms of polarized light, and they have some very bright and flashy colors on different parts of their bodies that they can display to each other." Nick Roberts, a sensory biologist at the University of Bristol, in the U.K.
Roberts and his colleagues investigated how the mantis shrimp create those flashy polarized signals, by examining their shells with an electron microscope. And they found that, unlike the polarizers in our sunglasses, cameras and LCD screens, the mantis shrimp use a completely novel way of polarizing light. And their method doesn't require the material to be as thick to be effective--meaning their polarizers are incredibly thin—500 times thinner, in fact, than the ones we've got.
"I think like many cases of biomimetic inspiration, Nature has had 50-odd million years to do its research and development and has come up with all sorts of solutions that we've never thought of." The results appear in the journal Scientific Reports. [Thomas M. Jordan et al, A shape-anisotropic reflective polarizer in a stomatopod crustacean]
And while you probably don't need thinner polarized sunglasses, Roberts says this could be a game changer for next-generation computer chips—optical chips—which use photons to perform calculations. "One of the things we would love to be able to do is actually create self-assembling polarizers on a microscopic scale, or even a nanoscale, that go onto photonic chips." Seems fitting that mantis shrimp would hold one of the secrets to making our technology… well… a little shrimpier.
—Christopher Intagliata
[The above text is a transcript of this podcast.]