Part of Real Paleo Diet: It's a Tuber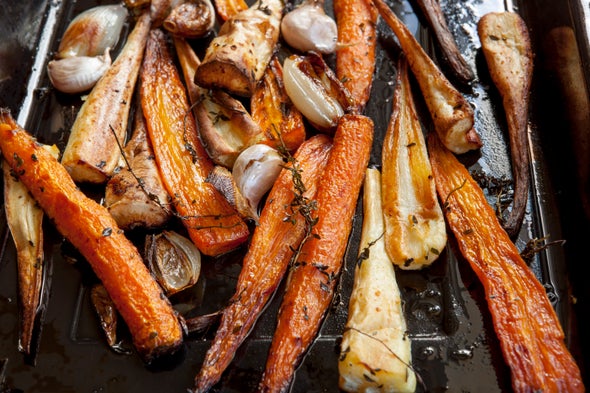 In South Africa archaeologists found the charred remains of a roasted root vegetable. Christopher Intagliata reports.
The paleo diet is a popular high-protein diet that aims to mimic what our hunter-gatherer ancestors ate. But what we buy at the supermarket doesn't quite approximate those ancient foods. Take for example, star lily roots. Heard of those?
"They taste a bit like yams."
Lyn Wadley is an archaeologist at the University of the Witwatersrand in South Africa. Her team recently discovered the charred remains of star lily roots in South Africa's Border Cave—hunks of roasted root that date to 170,000 years ago.
"There's greater glucose availability once the root vegetables were cooked. And they knew that nearly 200,000 years ago, which I think is extraordinary. Or maybe they didn't know the chemistry of it, but they would have realized they felt far more satisfied after eating a meal that's cooked rather than one that is raw."
It's not easy to identify a charred chunk of ancient food, though. So Wadley's team gathered an array of raw ancient foodstuffs and roasted and charred them in ovens and campfires. They then did visual comparisons to the ancient sample and observed them both in a scanning electron microscope, too—which revealed that the charred leftovers from that meal, 170,000 years ago, were probably chunks of star lily root.
Details and photos of those roots are in the journal Science. [Lyn Wadley et al., Cooked starchy rhizomes in Africa 170 thousand years ago]
Wadley says the find provides a better view of what the ancients ate. "I think the people who assume the paleo diet was based on protein simply haven't done their homework properly."
—Christopher Intagliata
[The above text is a transcript of this podcast.]