Quasar Winds Clock In at a Fifth of Light Speed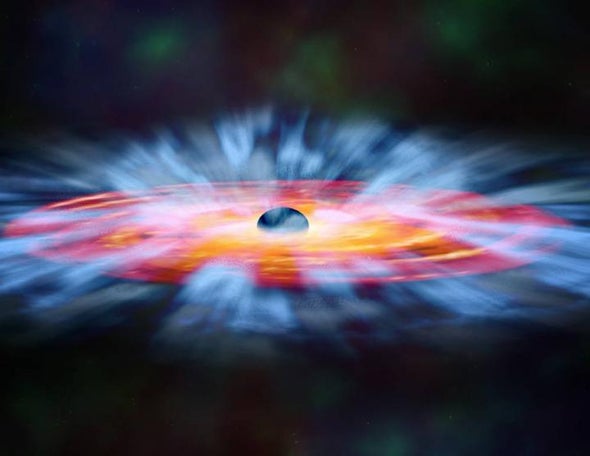 Quasars can shape the evolution of their galaxies, by blasting 135-million-mph winds. Christopher Intagliata reports.
Black holes are not all created equal. There are the regular star-sized ones. And then the supermassive black holes. Which really live up to their name. "So the Milky Way has a supermassive black hole sitting at the center weighing upwards of four million times the mass of the sun. They're monsters." Jesse Rogerson, an astrophysicist at York University in Toronto.
Rogerson studies the sites of the most violent, most active supermassive black holes: quasars. "They're pretty much some of the most extreme things you'll find in the universe."
The black holes at their centers of quasars gobble up massive amounts of gas and dust, "and that heat, that radiation that's created from the [stuff] falling in, it actually turns itself into a disc of stuff falling in, kind of like circling the drain almost. And that accretion disk is so bright it can outshine the entire galaxy within which it resides."
That disk isn't just bright—it's also blazing hot. And that intense heat creates winds. Think of a massive hairdryer, like the size of our solar system, blowing away galactic gas and debris. Rogerson and his colleagues aimed the Gemini Observatory on one such quasar, called J0230, about 11 billion miles light-years away. And they tracked a cloud of gas blowing away from J0230 and clocked the speed at 135 million miles per hour—a fifth the speed of light. Or, as Rogerson describes it, equivalent to a category 77 hurricane. The worst hurricanes here on Earth are category 5. The study is in the Monthly Notices of the Royal Astronomical Society. [Jesse A. Rogerson et al, Multi-epoch observations of extremely high-velocity emergent broad absorption]
These galactic gales, Rogerson says, could shape their galaxies. Think for example of a cloud of star-forming gas in the outer reaches of its galaxy. "It's collapsing down, it's condensing down, stars are growing inside clouds, and planets are growing out of that. Then you have a quasar turn on, start dumping massive amounts of material, pushing, it's like having a hurricane blast wind smack into your nice comfy little cloud that's currently building a solar system. It could easily disrupt that, turn that off, and stop the stars from growing, and then you end up having a galaxy that didn't grow a lot of stars."
The quasar, then, might be almost like a shepherd: guiding the evolution and, ultimately, determining the fate, of its flock of billions and billions of stars.
—Christopher Intagliata
[The above text is a transcript of this podcast.]
Editor's note: the audio and text has been corrected to reflect the fact that the quasar in question is 11 billion light-years away, not miles as originally stated. We regret the [huge] error.