Rocking Helps Adults Sleep Too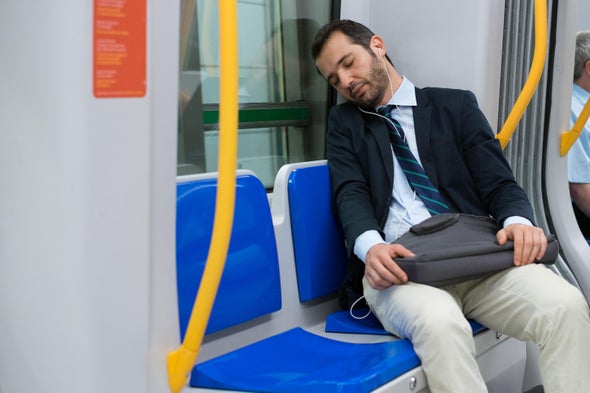 Adult humans, as well as mice, slept better when gently rocked.
Every new parent knows, or learns pretty quickly, that rocking can calm that fussy baby when it's time to take a nap. But the benefits of gentle motion may extend past the swaddling stage. Because two new studies show that rocking also helps grown-ups, both human and mouse, get a good night's sleep. The two research efforts are in the journal Current Biology.
[Aurore A. Perrault et al, Whole-Night Continuous Rocking Entrains Spontaneous Neural Oscillations with Benefits for Sleep and Memory and Konstantinos Kompotis et al, Rocking Promotes Sleep in Mice through Rhythmic Stimulation of the Vestibular System]
It should be no surprise that movement can be soothing. Think of how many times you've fallen asleep on a train. But can motion really induce a doze, and make for a deeper sleep? To find out, researchers invited 18 healthy volunteers for a sleepover.
"So they came to the lab and they slept one time on the stationary position, normal bed. And one night where they got rocked."
Aurore Perrault, a sleep researcher at the University of Geneva in Switzerland.
"And what we find is actually compared to a stationary night, a whole night of rocking sleep has a beneficial impact. Not only on sleep initiation, which means they fall asleep faster, but also on sleep maintenance, as we saw that they have less micro-awakening during the night."
Subjects who rocked also did better on a memory test the next morning than did the stiller sleepers.
In the second study, Konstantinos Kompotis, a postdoctoral fellow at the University of Lausanne, rocked a rack of rodents.
"Whether rocking affects sleep in species other human was never before discussed. So the main questions for our study were does rocking affect sleep in mice and what is the underlying mechanism?"
Kompotis placed the mouse cages on a platform that moved from side to side. And though mice were rocked four times faster than their human counterparts—a frequency of one back-and-forth per second, or 1 Hertz, worked best—the results were strikingly similar.
"During rocking at 1 Hertz, time spent asleep increased, there were more transitions from wakefulness to non-REM sleep, and mice fell asleep twice as fast than at stationary condition."
The effect required an ability to detect motion. Mice with a defective vestibular system, which is key to maintaining balance, did not become lulled by the sleep-inducing platform.
Additional studies could allow the researchers to identify a new target for treating sleep disorders, including insomnia. Until then, you might think about adding a little swing to your nighttime routine.
—Karen Hopkin
(The above text is a transcript of this podcast)