This Dragonfly Outmigrates Monarchs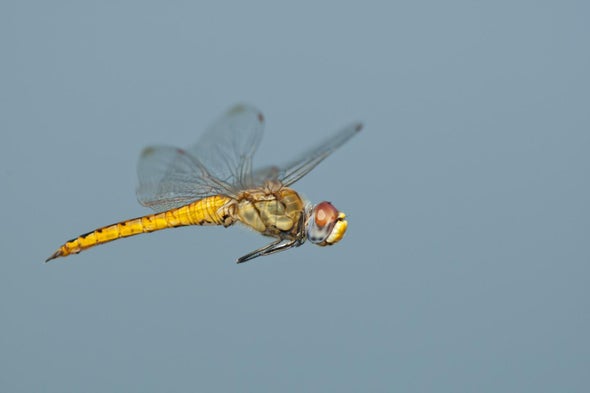 The dragonfly Pantala flavescens can travel 9,000 to 11,000 miles, and may interbreed across the globe. Christopher Intagliata reports.
Monarch butterflies are famous for their long haul to Mexico—a migration of more than 2,500 miles. But far more impressive is a species of dragonfly, Pantala flavescens. It's commonly known as a "globe skimmer," and it lives up to its name, migrating between 9,000 and 11,000 miles.
"Being really good at gliding, being able to take advantage of winds, being able to track rainy seasons, having short developmental times, because the larvae can develop very, very quickly,"—all those factors, according to Rutgers evolutionary biologist Jessica Ware, suggest the dragonflies may actually be one huge global population of interbreeding insects.
To test that idea, Ware and her colleagues sequenced DNA from dragonflies collected in Guyana, Japan, Korea, India, Canada and the United States. And since the genes they sequenced tend to mutate very quickly, if the populations were not interbreeding you'd expect to see differences from region to region. Instead, they found dragonflies in Japan that were more closely related to ones from Guyana than their own Japanese cousins. And that pattern of cross-continental similarities held true around the world. "This is a really compelling story that this is a species of the entire planet, of the Earth—it's not regional. The region is the planet." The results appear in the journal PLoS ONE. [Daniel Troast et al, A Global Population Genetic Study of Pantala flavescens]
As a truly global species, though, how will it react to global change? "If anything, climate change might just affect where it's able to set up these other populations, like in Canada. Maybe it'll be able to still establish and breed slightly north of where it is now. But I doubt it would necessarily change its routes dramatically." It's too early to know for sure—we'll just have to see which way the wind blows.
—Christopher Intagliata
[The above text is a transcript of this podcast.]