Utah's Deserts Are Bee Hotspots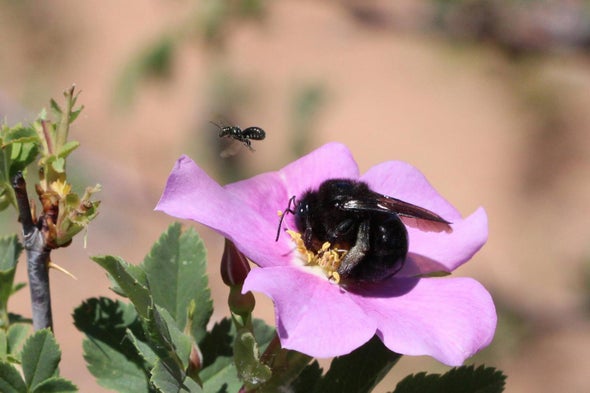 The Trump administration is shrinking Utah's desert monuments, stripping some federal protections for wild pollinators. Christopher Intagliata reports.
<CLIP: "As all of you know, today we are keeping faith with the future. I'm about to sign a proclamation that will establish the Grand Staircase–Escalante National Monument.">
More than 20 years ago, President Bill Clinton stood on the south rim of the Grand Canyon, announcing his intention to set aside nearly two million acres of Utah land. Land that his proclamation said was home to, quote, "many different vegetative communities and numerous types of endemic plants and their pollinators."
Just how many pollinators was an open question at the time. So, a handful of intrepid entomologists set out, season after season, to observe and classify wild bees in every corner of the monument… and they got 660 of them.
"So 660 bees represents about half the species known in Utah, and about one fifth of the species known from the United States." Joseph Wilson, an entomologist at Utah State University involved in the efforts. "So there's a big proportion of the bees known from North America are found in the Grand Staircase National Monument."
But then, he says, just as they were publishing those big results, his team got word the Trump administration was going to shrink the monument to half its size.
So they reanalyzed their data in light of the new maps. And found that the new monument left 84 of the 660 wild bee species outside its bounds. "So what does it mean for these 84 species now that they're no longer in these protected lands? We really don't know."
Their analysis—and maps of the monument and its bees—are in the journal PeerJ. [Joseph S. Wilson et al., Reducing protected lands in a hotspot of bee biodiversity: bees of Grand Staircase–Escalante National Monument]
"One of our main goals is just to make people aware that this area is a hotspot of bee diversity and that pollinators, including all of these native bees, should probably be considered as management plans for these areas get developed."
Just as they were considered in the monument's creation.
—Christopher Intagliata
[The above text is a transcript of this podcast.]