Whitening Strips Alter Proteins in Teeth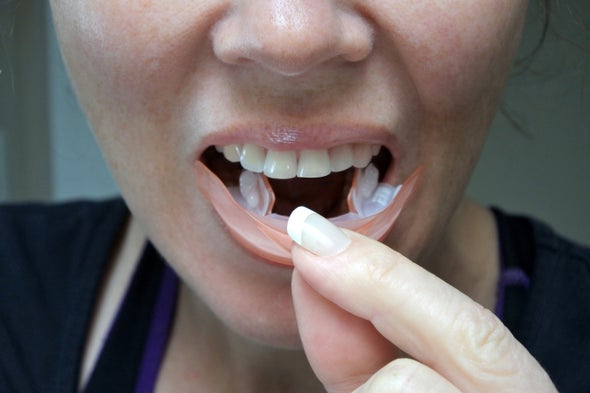 Hydrogen peroxide in whitening treatments penetrates enamel and dentin, and alters tooth proteins. Christopher Intagliata reports.
Of all the stuff you can buy on eBay, here's a new one: human teeth. "I think I probably averaged maybe $5 a tooth." Kelly Keenan, a biochemist at Stockton University in New Jersey.
Keenan chased down the chompers to investigate what whitening strips do to a tooth's chemical composition. So she stuck the teeth in styrofoam, applied the whitening strips per manufacturer instructions and added some artificial saliva: a liquid mixture at the pH and with salts you'd find in regular spit.
Treatments complete, she extracted proteins from the teeth and found that the more rounds of whitening the teeth experienced, the fewer proteins she could recover—because hydrogen peroxide in the whitening strips was snipping chemical bonds.
"The bigger picture is that hydrogen peroxide can penetrate the enamel and dentin, and it can cause your proteins to break down. And smaller pieces are removed from those proteins."
She and her undergraduate students presented on that research at the 2019 Experimental Biology meeting in Orlando. [Keenan et al., (abstract 1), (abstract 2) and (abstract 3)]
This is just a preliminary study for now, and the pulp of your teeth can replenish proteins in the dentin, though not the enamel—so it's unclear whether these effects would cause permanent damage in real, living teeth. One thing's for sure: supplies of teeth for experiments seem to be plentiful.
"I think I bought a set of 15. And the person's like, 'Let me know if you need more.' This person also claimed the teeth were from his mouth, which, you don't have that many more to go!"
—Christopher Intagliata
[The above text is a transcript of this podcast.]