You Live in a Strange Solar System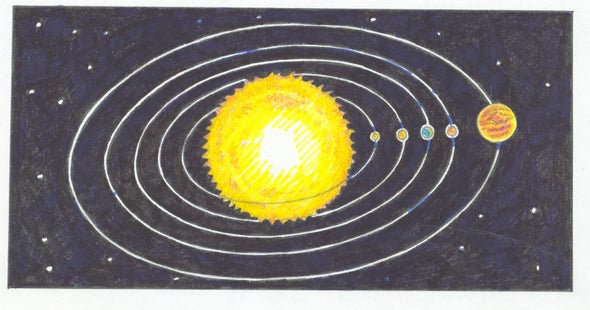 Astronomers found that other star systems tend to host similarly sized exoplanets—far different from ours. Christopher Intagliata reports.
The more astronomers study the heavens, the more they realize: our solar system is weird.
"There are a few things that make the solar system kind of strange." Lauren Weiss, an astrophysicist at the University of Montreal. "One of which is we have a giant planet. Only about 10 percent of sunlike stars have a giant planet. And there are probably even fewer that have two giant planets."
In addition to giant Jupiter and lesser giant Saturn, we have tiny Mercury—just a bit bigger than Earth's moon.
So if we're weird, what does a typical solar system look like? Weiss and her team trained their telescopes on 355 star systems known to host a handful of small exoplanets. And they found that most of the planets within individual star systems tended to be similar in size.
"So if I'm a planet, and I'm, say, two times the size of Earth, my neighbor, the next planet over, is also likely to be two times the size of Earth, give or take a little bit."
And they were strung out at similar distances from each other too…like peas in a pod, she says. Compared to that orderly array, our system looks more like, "Uh let's see, if I stick with food…I don't know…like a whole Thanksgiving dinner or something?"
The results are in The Astronomical Journal. [Lauren M. Weiss et al., The California-Kepler Survey. V. Peas in a Pod: Planets in a Kepler Multi-planet System Are Similar in Size and Regularly Spaced]
As for hunting for habitable worlds: "If we're trying to find an Earth-sized planet in the habitable zone"—not too close to the star but not too far away either—"and we find an Earth-sized planet closer in, it might be worthwhile to continue searching for planets around that star."
Because there might just be a few more peas in the pod.
—Christopher Intagliata
[The above text is a transcript of this podcast.]