Special Report
The 40th Anniversary of Apollo 11
Four decades after mankind's giant leap, a look at the harrowing first lunar landing, the Apollo missions that never flew, and how the historic event looked from the Soviet Union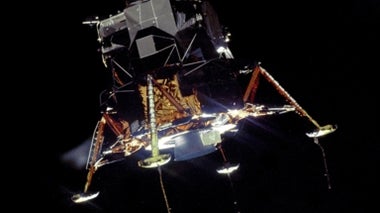 Space
Boulders, a crater, moon dust and an overworked computer all stood in the way of humankind's first lunar touchdown
July 17, 2009 — Andrew Chaikin
Space
As the U.S.'s lunar landing program wound down, plans for its last three Apollo missions were canceled, leaving unused hardware and questions of what might have been
July 16, 2009 — Kenneth Silber
Space
A son of the Cold War tells what it was like from the losing side of the Space Race--and how the U.S.S.R.'s space program fizzled after Sputnik and Gagarin
July 16, 2009 — Saswato R. Das
Buzz Aldrin recalls the simple strangeness of being on another world, such as how the dust rose and fell differently on the moon with each footfall. Steve Mirsky reports
On the 40th anniversary of Apollo 11, NASA produces a book of photographs curated by Apollo veterans
The only scientist and field geologist ever to visit the moon offers some pointers to those who will one day visit Mars
Stargazers will have the opportunity to get their hands on photos, charts, models and other space race relics from NASA missions thanks to an auction to commemorate the Apollo 11 moon mission...
We look at the contents of the July issue of Scientific American magazine, the last under outgoing Editor in Chief John Rennie, including an article by moon explorer Harrison Schmitt, a piece on the fight against superbugs, a report on the potential of biofuels such as grassoline, and a recollection of the pernicious effects of chess!...
Humans are returning to the moon. This time the plan is to stay a while
Buzz Aldrin, the second man to walk on the moon, talks about solar energy, buses between the planets, the Constellation program, his time on the moon and his new animated movie, Fly Me to the Moon ...
As a new film on the Apollo 11 mission is released, the second man on the moon tells ScientificAmerican.com what he thinks of NASA's current direction
It was a first not only for NASA, but for humanity. As the world bore witness, a redesigned Apollo spacecraft, tested in space with a crew only once before, carried three astronauts to orbit the moon...
In a little more than an hour, the Eagle will have landed. And at 10:56 P.M. (Eastern Daylight Time), Neil Armstrong will set foot on the moon. Both of these events took place 40 years ago, of course, but they will unfold again across the Web today, to the delight of those nostalgic for the first manned moon landing in 1969 and those too young to remember...
The successful mission of Apollo 11 opens an epoch of planned lunar exploration. What questions should this exploration seek to answer, and what areas of the moon should be visited to best confront them?...
40 years after the first moon walk, designers and engineers discuss the continuing evolution of astronaut apparel