Special Report
A Field Guide to Bats
These winged mammals inspire fear, wonder, and even movies. How does their sonar work? And can we save species that are going extinct?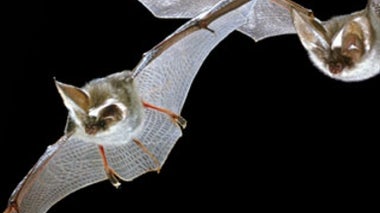 The Sciences
At last, fossil and genetic findings elucidate the evolution of bats--and settle a long-standing debate over the origins of flight and echolocation
December 1, 2008 — Nancy B. Simmons
The Sciences
Which bat would be voted "most likely to eat insects" in their high school yearbook?
Health
First a U.S. girl--and now two South American kids survive onset of the deadly virus
November 21, 2008 — Barbara Juncosa
A three-part video series takes us on a tour of these enigmatic winged mammals
Q&A with movement researcher E. Paul Zehr
ScientificAmerican.com talks with the first known survivor of rabies four years later
Saturday, September 8th, is World Rabies Day, to raise people's awareness about the disease--rabies still kills 55,000 people every year. Steve Mirsky reports. For more info, go to www.worldrabiesday.org...
Accidentally inebriated Egyptian fruit bats prefer the type of sugar, fructose, that helps them detox faster.
Fog and lasers reveal the wind beneath a bat's wings
Natural reservoir for emerging viruses may be bats
The lethal "flying fox" virus may spread between people
Nectar-feeding bats, which have to hover, go through sugar three times faster than even world-class athletes. Steve Mirsky reports.
It is the pressure change--not the blades--that wipe out thousands of bats annually at wind farms
Researchers look beyond white-nose syndrome as the prime suspect in the mysterious deaths of bats in the U.S. Northeast
Oldest known bat lacked hallmarks of echolocation