Special Report
Farewell to the Tevatron
The top U.S. particle collider, now eclipsed by a more powerful European machine, will be switched off September 30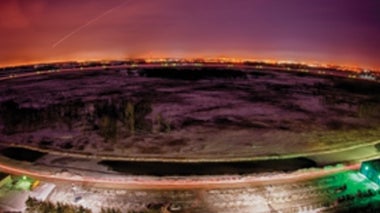 The Sciences
Even as the last protons spin through the most successful particle accelerator in history, physicists hope to conjure one final triumph
October 1, 2011 — Tim Folger
Sustainability
Notable events from the 32-year history of Fermilab's Tevatron, which reigned as the world's most powerful collider for years
September 29, 2011 — THE EDITORS
September 29, 2011 — John Matson
Finding the sixth quark involved the world's most energetic collisions and a cast of thousands
Fermilab finds the top quark—sort of
Europe's Large Hadron Collider is extending its unprecedented experimental run as the U.S. prepares for a disappointing shutdown of its marquee collider
An analysis of Tevatron data shows an asymmetry in the way particles known as neutral B mesons decay
In this episode, Scientific American editor Mark Alpert talks about his trip inside the Tevatron, the world's most powerful particle accelerator, at the Fermi National Accelerator Laboratory, and the future of the Tevatron, specifically for neutrino research...
The hunt for the long-sought-after particle continues in the U.S. as the Large Hadron Collider in Europe lies dormant
What's the matter with antimatter? New data may hold the answer.
The soon-to-be-retired Tevatron collider has uncovered an unexplained signal that could be a previously unknown particle
Last-minute budget cuts stun U.S. physicists
Closer to god: fermilab makes solo top quarks
Congress's budget cut decelerates U.S. high-energy physics research
Radioactivity limits the potential for recycling, except for one infamous particle smasher that never saw the light of day