Umbrellas Plus Sunscreen Best Bet to Beat Burns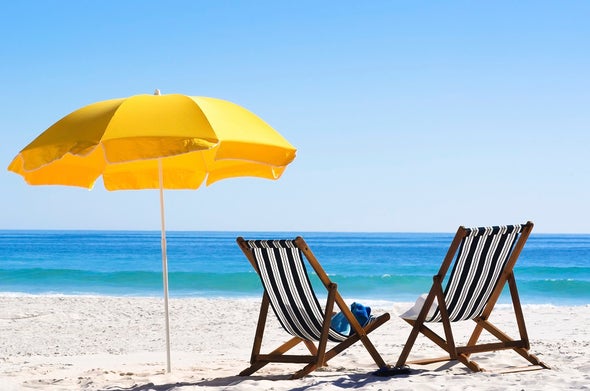 Sunscreen or beach umbrellas alone were unable to completely prevent sunburns—so researchers suggest combining the methods instead. Christopher Intagliata reports.
Last time you hit the beach—and yeah, probably seems like a distant memory in the currently chilly parts of the world—did you pack sunscreen? A beach umbrella? Or both?
Researchers put the two sun-protecting products to the test. First contender: a beach umbrella, which they evaluated with a spectrophotometer to see if UV rays passed through. They didn't…good sign so far. The second contender was sunscreen: 100 SPF.
Then the scientists rallied 81 people to go sunbathing at a lake outside Dallas, for three hours around mid-day. Half got beach umbrellas. The other half, all-you-can-apply sunscreen. And because this is science—not a day at the beach, eh, let me rephrase that, not a walk in the park—the participants were not allowed to take a dip.
Twenty four hours after the solar exposure—enough time for any sunburns to ripen—the researchers visually inspected the sunseekers' skin. And they found that three times as many umbrella-sitters had sunburns somewhere on their bodies, compared to their sunscreen-slathering neighbors. And since the umbrellas themselves block UV rays, the burns are likely due to UV light bouncing off the sand and other surfaces, then hitting unprotected skin. The study is in JAMA Dermatology. [Hao Ou-Yang et al., Sun Protection by Beach Umbrella vs Sunscreen With a High Sun Protection Factor A Randomized Clinical Trial]
The caveat? Even sunscreen users weren't completely burn-free. So the researchers—some of whom, full disclosure, work at Johnson & Johnson, which makes sunscreen—instead recommend hedging your bets. Wear a wide-brimmed hat. Sit in the shade. Use sunblock, too. To ensure you don't need that fourth strategy: aloe vera.
—Christopher Intagliata
[The above text is a transcript of this podcast.]