Special Report
Celebrating 170 Years of Scientific American
From world-changing inventions to discoveries that shaped our understanding the natural world, a look back at the evolution of the oldest continuously published magazine in the U.S.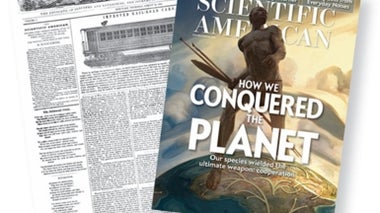 Arts & Culture
Editor in Chief Mariette DiChristina reflects on Scientific American 's evolution from an aspirational weekly broadsheet to the longest continuously published magazine in the U.S. with 14 local language editions around the world...
August 1, 2015 — Mariette DiChristina
Policy & Ethics
February 1, 2014 — Jen Christiansen and Mark Fischetti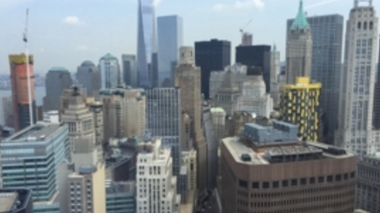 170 Years, 11 locations—A map of Scientific American's wanderings around Manhattan
From Scientific American's Anecdotes from the Archive blog: The Statue of Liberty. She is a symbol of freedom, an icon of New York City, and today is her birthday.
Scientific American observes the 100th anniversary of a competition that would bring manned flight to the masses, spawn the aviation industry, and forever change the way we live and travel...
One of America's first attempts at underground transportation was powered pneumatically, built covertly—and illegal
Key facts, quotes, awards and company history
Earlier this year, I learned that the founding editor of Scientific American Magazine, Rufus Porter, was an artist—an influential muralist and prolific portrait painter at that.
Innovation and discovery as chronicled in past issues of Scientific American
Scientific American's parent company, Macmillan Science & Education strives to be both a place where curious minds gather together to achieve great things for our customers—and where we can, working together as a company, be more than the sum of our parts...
Scientific American's logotype has undergone subtle shifts, large leaps and occasional bouts of nostalgia. The image series below outlines the history of the publication's identity, starting with its debut in August 1845 as weekly devoted primarily to inventions...
When the famed astrophysicist needed to select a college, he turned to the pages of Scientific American for help. Years later, our profile about him turned out to be his favorite...