Special Report
The Growing Threat of Space Junk
Accumulating orbital debris--often small shards of defunct satellites and past space missions, already concerns the U.S. government. Now,with movies like Gravity, public awareness is growing too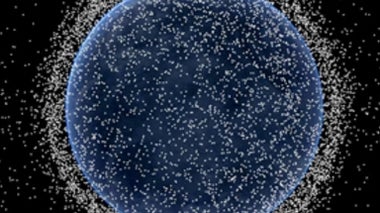 The Sciences
Our planet's littered orbital environs urgently need a concerted cleanup effort
February 1, 2012 — Kathy Jones, Krista Fuentes and David Wright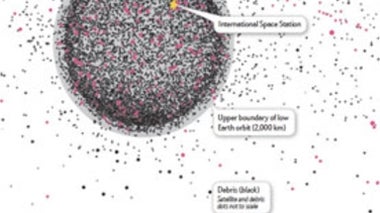 Space
Even without future launches, low Earth orbit will remain polluted
April 1, 2012 — John Matson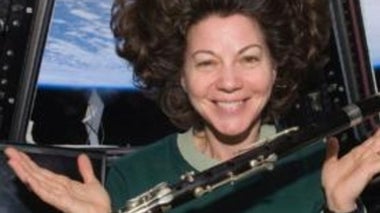 Space
Although the life-threatening situation Gravity depicts is fictional, the new film faithfully captures the beauty of orbit, says a former space station crew member
October 1, 2013 — Clara Moskowitz
A multibillion-dollar radar system should vastly increase the amount of orbital debris under surveillance, but actually removing any debris will be a monumental challenge
DARPA is soliciting pitches on how best to remove orbital debris
Credit: NASA The orbital realm surrounding Earth is filled with millions of pieces of space junk, some of which occasionally fall back to Earth. Rarely, though, does an entire satellite or spacecraft come back uncontrolled, as NASA expects its Upper Atmosphere Research Satellite (UARS) to do sometime on Friday.The schoolbus-size UARS [ see artist's depiction at left ] weighs some 5.7 metric tons, and NASA predicts that 500 kilograms of debris will survive reentry and land somewhere on Earth.
A commercial satellite collided with a Russian satellite over Siberia yesterday, yielding a cloud of fragments, according to a NASA scientist tracking space debris.
Early in the Space Age, little thought was given to objects left in orbit as part of satellite launches. But as the number of those objects has grown, at first steadily and then very rapidly, through the 50-plus years since the launch of Sputnik, concerns about the polluted orbital sphere have grown accordingly.
Orbital debris hits Earth daily, but NASA says not to worry
Think garbage is a problem on the ground? Out-of-this-world solutions may be needed to get rid of the growing swarm of space trash, including debris from last week's smashup between a Russian and a U.S.
Orbital debris within 250 meters of the International Space station is a warning to clean up the neighborhood before a tragic impact. John Matson reports
Space station noises renew worry about orbital debris