Special Report
Love among the Primates
Promiscuity, polygamy, monogamy—over the course of millions of years, humans and their primate relatives have tried nearly every possible mating arrangement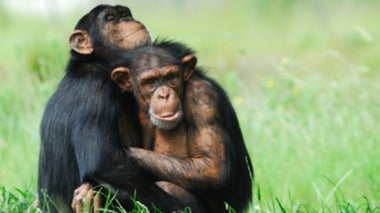 The Sciences
What persuaded the male hominid to stick around after mating?
August 1, 2010 — Brendan Borrell
Sustainability
February 2, 2004 — Sarah Graham
Helen would never have yielded herself to a man from a foreign country, if she had known that the sons of Achaeans would come after her and bring her back.
December 10, 2013 — Eric Michael Johnson
Is bigger always better? When it comes to brain size, that has long been the prevailing theory—at least among big-brained humans. But a new analysis shows that in the course of primate evolution, brains and brawn haven't always been on the rise.
A discovery of the oldest known fossils from two major primate groups fills in a 10-million-year gap in the record and reveals new information about evolution
It is not in the least bit controversial to picture humans* within the context of the placental mammal group that we belong to, the primates.
The origins of our sexuality is the greatest mystery in human evolution. But could our prime suspect be a case of mistaken identity?If reproductive success were applied to fiction the two billion copies of Agatha Christie's novels (only trailing behind Shakespeare and the Bible) would be considered a stunning example of evolutionary fitness.
Click here for Part Two: Sarah Blaffer Hrdy on the Evolutionary Lessons of MotherhoodIn my cover article out this week in Times Higher Education I featured the life and work of famed primatologist and evolutionary theorist Sarah Blaffer Hrdy.
Click here for Part One: An Interview with Sarah Blaffer Hrdy on Mother NatureAs I explored in my article, "Women and Children First", Sarah Blaffer Hrdy has faced innumerable challenges in the course of her scientific career.
Humans do it. Our great ape cousins, the bonobos, do it. Now researchers have documented western gorillas mating face to face in the wild.
A study published online in the journal Public Library of Science finds that male chimps who provide meat for females double their chances of mating over the long term. Steve Mirsky explains, with reporting by Adam Hinterthuer
An account of some curious preliminaries to mating among birds, insects and spiders, with particular reference to the influence of vision
The elaborate patterns of behavior that precede mating in some species present a puzzling biological problem. Their function is sought through the classic interplay of theory and experiment
As prehuman primates evolved into men, how did the primate horde evolve into the human band? One of the key changes seems to have been the subordination of sexual drives to the needs of the group
Dominance may not be key to mating of rhesus macaques