Despite the advances in oncology research and care, cancer remains the world's second leading cause of death. But Andrew Coop, the global medicines lead of the oncology business unit at AstraZeneca, hopes that his company might help to change that. He and the U.S. oncology team at AstraZeneca realize that bringing about meaningful change in cancer care is only possible when the entire community comes together. The company's YOUR Cancer program was designed to amplify and celebrate individuals and groups making a real difference in the oncology ecosystem—patients and caregivers, healthcare providers and researchers, advocates and policymakers and all those who are part of the oncology community.
How would you describe AstraZeneca's YOUR Cancer program?
YOUR Cancer is a new program designed to spotlight those at the forefront of cancer care. We recognize that any cancer diagnosis is devastating, but with this program we hope to reinforce the idea that it does not have to be one person's burden to bear. Our goal is to amplify the research, advocacy, policy, best practices, support initiatives and everything that's going on to improve the care of patients and their loved ones dealing with cancer. There are so many people who are touched by this disease but there's a tremendous community with experiences that can—and do—collectively make a difference. With YOUR Cancer, we hope to amplify and celebrate this collective effort.
What are the core pillars of the YOUR Cancer program?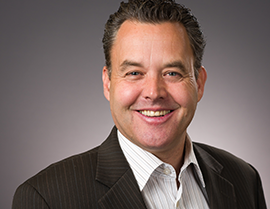 There are four main pillars of this program. One, a digital hub, www.YourCancer.org, where people can go to find community perspective and resources. We're inviting individuals and organizations to exchange ideas, get visibility for their work, and be part of this community. Two, an awards program designed to recognize unsung heroes of oncology—those individuals and organizations who are the true change agents in their communities. Three, a series of local roundtables to generate dialogue by bringing together policymakers, advocates and others to discuss important local issues in cancer care and come up with actionable solutions. And, four, a series of speaking engagements to profile key oncology leaders and raise important issues in cancer care.
Why is the YOUR Cancer program Important to AstraZeneca?
There is an old proverb that if you want to go fast, you go alone, and if you want to go far, you go together. We want to go far at AstraZeneca. We've made a commitment to one day eliminate cancer as a cause of death, but we recognize that we can't do this alone. We're proud of our innovative portfolio and the work we do to take a molecule from our pipeline into the clinic where it can make a difference. But this is only one small part of bringing real change to patients and we realize that we need a village to do this. Through the YOUR Cancer program, we hope to offer our resources and platform to spotlight the oncology community as it works together to improve patient outcomes.
As part of the YOUR Cancer program, AstraZeneca developed the Cancer Community (C2) Awards. How would you describe them?
We're excited about the C2 awards because they're unique and meaningful. They celebrate members of the cancer community—whether it be individuals or organizations—who have an unstoppable drive to change cancer care. These awards also honor people who are working at the grassroots level—people who make an enormous difference to cancer patients and families but often fall outside the bounds of traditional awards programs. Each of the program's four awards recognizes contributions made toward eliminating cancer as a cause of death, whether by extending quality care to underserved communities, improving the patient experience, advancing precision medicine or just doing something flat-out inspiring to improve oncology care. Each of the four winners will receive a $50,000 award that they can pay forward by donating it to a non-profit organization that serves the cancer community. The nature of these awards and paying it forward exemplifies the spirit of what we're looking to do in the YOUR Cancer program in general.
To learn more about the YOUR Cancer program and the C2 Awards, visit www.YourCancer.org.