In 1989, Stanley Crooke, MD, PhD, took a chance on a little-known technology called antisense—a new way to find and validate drug targets by enhancing the human immune response and preventing production of proteins known to cause disease. As a physician and pharmacologist, Dr. Crooke recognized its potential to bring relief to patients with few options, and built a company, Ionis Pharmaceuticals, to do just that. After 30 years, Dr. Crooke's bet has paid off, with two recently approved first-in-class drugs and an advanced antisense technology platform that promises to boost the efficacy, safety and scope of treatments in major areas of medical need. With an advancing and growing pipeline of more than 45 investigational therapies, Ionis stands ready to lead the future of medicine.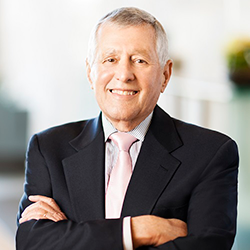 You've said the biggest myth in medicine is that developing a new drug is easy. Why is it so hard?
Pharmaceuticals are a unique business because the compounds we test fail to make it to patients 99 percent of the time. It's remarkable they work at all. Researchers must investigate millions of possible combinations of proteins and molecules that will bind to the cell structure and safely deliver a prophylactic effect to the patient. Even though the basic science behind medicine is steadily improving, the extensive resources and regulatory commitments required to innovate are making it even harder to produce those breakthrough therapies society expects from our industry.
What motivated you to found Ionis, and how did it shape the company's distinctive approach to drug discovery?
I founded the company in 1989, after holding senior R&D positions at several major big pharma companies. There I experienced the productivity constraints that, even then, were making R&D investment increasingly untenable. I decided to pursue my research interest in a novel treatment pathway called antisense technology. I became convinced that antisense had commercial potential through its impact on the binding properties of ribonucleic acid (RNA), which controls the synthesis of proteins and enhances immune response, making it superior to the conventional small molecule platform used in identifying drug targets. At the start, I told investors that it would take 20 years and $2 billion before I knew, and there would be many setbacks along the way, but I thought it was worth it.
Is the full potential of Ionis' antisense technology within reach?
My hunch was that RNA-focused antisense would make drug timelines faster, more precise, predictably safe, and applicable to conditions previously thought "undruggable." We had a few early wins: Vitravene, for CMV retinitis in immunocompromised patients; and Kynamro, for homozygous familial hypercholesterolemia (FH). But full confirmation had to wait for SPINRAZA® *, our first-in-class antisense therapy for spinal muscular atrophy (SMA). After approval it was launched in 2017 by our strategic partner Biogen. Today, antisense RNA-targeted technology forms the base of our R&D pipeline of some 45 drugs, 11 of which we expect to enter Phase-III within the next 12 to 18 months. In that pipeline we cover treatments from Parkinson's disease to ALS, dyslipidemia and NASH, hypertension, cancer, blood disorders like thalassemia, and other rare conditions, including Huntington's disease. The richness reflects that early commitment we made to go places where others have not, and to work the science in ways that have never been tried before. Our reach is high: the Ionis R&D model requires all pipeline candidates be positioned for first-in-class status after regulatory approval.
The Ionis mission statement starts by saying "sick people depend on us." What does this mean in practice?
I discovered early in my career you can do more good with a single drug than as an individual researcher or physician. Everyone at Ionis must believe that what they do is grounded in an awareness that there are sick people waiting on our research. If you come to work every day thinking about the patient and you reward the curiosity implicit in doing good science, silos will fall and creativity will flourish. Our culture is built on open science and an absolute aversion to the word "no." A desperate patient with few options for treatment should never hear that word. Once you've brought hope to patients, you just want to do it again, and again.
For more information, visit www.ionispharma.com.
*SPINRAZA® is marketed by Biogen.