Special Report
The Titanic: 100 Years Later
A look back at one of the biggest moments in steamship history, including how Scientific American covered it
The Sciences
The great steamship sank 100 years ago, but its legendary drama, heroes and villains remain as unforgettable as ever
April 4, 2012 — William Henry Flayhart III
Tech
Detailed maps of the debris field, high-definition images and online gaming technology could lead to virtual expeditions to the Titanic site
April 12, 2012 — Christina Reed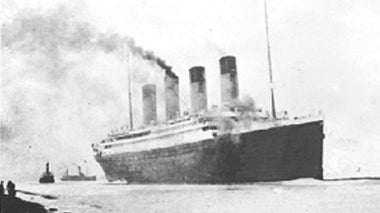 The Sciences
From the great ocean liner's construction to its sinking to its discovery on the ocean floor, the key moments in the Titanic's history. See our full centenary coverage here
April 9, 2012 — Rose Eveleth
Better technology and vigilant monitoring have made the oceans safer, but fatal accidents continue to occur
Temperature can dramatically change the properties of materials, as Yale University's Ainissa Ramirez shows
As the Titanic's sinking and Costa Concordia's grounding demonstrate, no amount of engineering can completely compensate for human error
One hundred years ago, a ship sideswiped an iceberg on its way across the ocean, and the Titanic legend was born. Speaking of legend, James Cameron's film was so sweeping and dramatic that some folks think it must have been entirely fictional...
Hello, everyone!I'm a member of the Marine Forensics Committee, and author or co-author of three peer-reviewed papers on the "Titanic". My most recent paper, "The Breakup Of Titanic – A Re-Examination of Survivor Accounts", was presented at the First International Marine Forensics Symposium on April 4.Working with Roy Mengot (with whom I co-authored one paper), I've been gathering evidence to support a reconstruction of the breakup of the "Titanic" that differs somewhat from the one you may have seen in movies or in other publications...
Sweeping images of the sunken ship were made by stitching together hundreds of optical and sonar images collected by deep-diving robots during a 2010 expedition
A century ago a great ship struck an iceberg and sank, earning a permanent place among the stories we tell—and lessons we should learn
Possible methods to move the massive Costa Concordia, twice as big as the Titanic, include multiple cranes, inflatable bags and even buoyant objects like ping-pong balls used by Donald Duck...
Italy's coast guard suspended the search for people on the Costa Concordia today after the ship slipped farther into the Mediterranean.
James Cameron commissions the making of robots for a return to the Titanic
How the world's greatest steamship went down with 1,600 souls
The destruction of the Titanic, started by a huge iceberg, will be finished by tiny, iron-eating bacteria. Karen Hopkin reports
How they are formed; Their characteristics; How they drift; Precautions taken to protect shipping against them
Can't stay up to follow all the #Titanic_SA tweets? Here are they are, all collected