Most of us would rather not think about the cavity-causing microbes infesting our mouths. They coat our teeth, eat the same sugars we do and excrete acids that carve holes in our enamel. And the complete picture is even grosser.
A new study published in the Proceedings of the National Academy of Sciences USA shows that conglomerations of fungi and bacteria can work together to "walk" and "leap" across the surface of teeth, spreading decay much faster than either organism alone.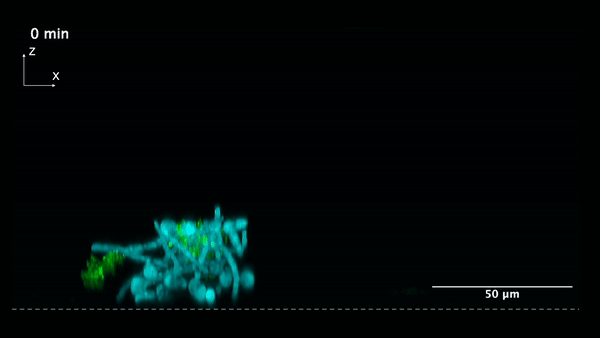 "The knowledge in the past was that it was just bacteria accumulating one by one and causing cavities," says study co-author Hyun (Michel) Koo, a microbiologist and dentist at the University of Pennsylvania. His team collected saliva samples from toddlers with severe tooth decay and found natural assemblages of Streptococcus mutans bacteria and Candida albicans fungi, which weren't present in saliva from children with healthier teeth. Viewing these masses under a microscope revealed a surprise: they appeared to be capable of complex motion.
Small bacterial cells tended to cluster around the core of each clump, forming a sticky binding that held everything together. Larger, rod-shaped fungal cells joined on the outside as moving "limbs" that propelled the structure forward as it grew. The front limbs sometimes appeared to walk or even jump ahead, with the assemblage rapidly expanding in one direction as its hind limbs remained on the ground. If two such groupings were near each other, they would sometimes reach out in a "handshake" and then merge.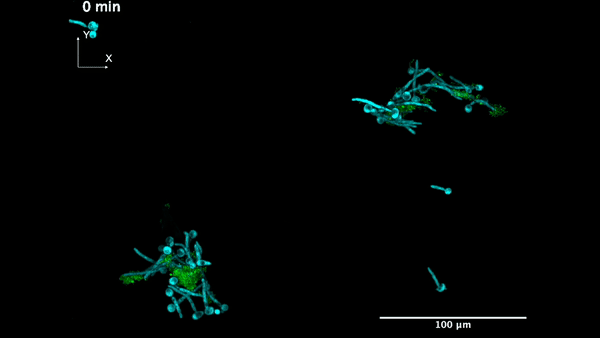 Microbes in the mouth "are like a community trying to expand their territory," gaining new land and sugary resources, says Zhi Ren, a postdoctoral fellow in Koo's laboratory and co-lead author on the study. The team found that bacterial-fungal partnerships grew faster and were more resistant to removal by mechanical force or antimicrobial chemicals than fungi or bacteria alone.
"What this paper really adds is the spatial-temporal aspect of these structures' behavior," says Judith Behnsen, a microbiologist at the University of Illinois at Chicago, who was not involved in the new research. She says most microscopy researchers examine microbes suspended in place by a preservative chemical, but this study followed living, moving organisms: "When I saw the images in the paper, I was blown away."
Future research could determine who is most at risk of developing bacterial-fungal assemblages and the best way to treat them, Ren says. Tooth decay is extremely common and dangerous globally, he adds—and studying the interactions between bacteria and fungi can help us defend against their territorial expansion.