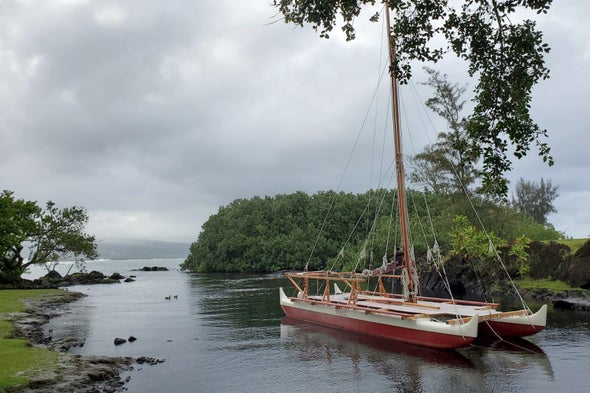 Wa'a Kiakahi in Keaukaha, Hawaii. Credit: Keolu Fox
I am the proud descendant of people who, at least 1,000 years ago, made one of the riskiest decisions in human history: to leave behind their homeland and set sail into the world's largest ocean. As the first Native Hawaiian to be awarded a Ph.D. in genome sciences, I realized in graduate school that there is another possible line of evidence that can give insights into my ancestors' voyaging history: our moʻokuʻauhau, our genome. Our ancestors' genomes were shaped by evolutionary and cultural factors, including our migration and the ebb and flow of the Pacific Ocean. They were also shaped by the devastating history of colonialism.
Through analyzing genomes from present-day peoples, we can do incredible things like determine the approximate number of wa'a (voyaging canoes) that arrived when my ancestors landed on the island of Hawaii or even reconstruct the genomes of some of the legendary chiefs and navigators that discovered the islands of the Pacific. And beyond these scientific and historical discoveries, genomics research can also help us understand and rectify the injustices of the past. For instance, genomics might clarify how colonialism affected things like genetic susceptibility to illness—information crucial for developing population-specific medical interventions. It can also help us reconstruct the history of land use, which might offer new evidence in court cases over disputed territories and land repatriation.
First, let's examine what we already know from oral tradition and experimental archeology about our incredible voyaging history in the Pacific. Using complex observational science and nature as their guide, my ancestors drew on bird migration patterns, wind and weather systems, ocean currents, the turquoise glint on the bottom of a cloud reflecting a lagoon, and a complex understanding of stars, constellations and physics to find the most remote places in the world. These intrepid voyagers were the first people to launch what Kanaka Maoli (Hawaiian) master navigator Nainoa Thompson refers to as the original "moonshot."
This unbelievably risky adventure paid off: In less than 50 generations (1,000 years), my ancestors mastered the art of sailing in both hemispheres. Traveling back and forth along an oceanic superhighway the space of Eurasia in double-hulled catamarans filled to the brim with taro, sweet potatoes, pigs and chickens, using the stars at night to navigate and other advanced techniques and technologies, iteratively perfected over time. This would be humankind's most impressive migratory feat—no other culture in human history has covered so much distance in such a short amount of time.
The history of my voyaging ancestors and their legacy has been passed to us traditionally through our ʻōlelo (language), mo'olelo (oral history) and hula. As a Kanaka Maoli, I have grown up knowing them: of how Maui pulled the Hawaiian Islands from the sea and how Herb Kāne, Ben Finney, Tommy Holmes, Mau Piailug and many other members of the Polynesian Voyaging Society enabled the first noninstrumental voyage from Tahiti to Hawaii in over 600 years onboard the wa'a Hōkūle'a.
Genomes from modern Pacific Islanders have enabled us to reconstruct precise timings, paths and branching patterns, or bifurcations, of these ancient voyages, giving a refined understanding of the order in which many archipelagoes in the Pacific were settled. By working collaboratively with communities, our approach has directly challenged colonial science's legacy of taking artifacts and genetic materials without consent. Similar tools to the new genomics have no doubt been misused in the past to justify racist and social Darwinist ends. Yet by using genetic data graciously provided by multiple communities across the Pacific, and by allowing them to shape research priorities, my colleagues and I have been able to "I ka wā mamua, ka wā ma hope," or "walk backward into the future."
So how can our knowledge of the genomic past allow us to walk toward this better future? Genome sequence data are not just helpful in providing refined historical information, they also help us understand and treat important contemporary matters such as population-specific disease. The time frame of these ancestors' arrival in the Pacific, and the order in which the most remote islands in the world were settled, matters for understanding the incidence and severity among Islander populations of many complex diseases today.
Think of our genetic history as a tree, with present-day populations at the tips of branches and older ones closer to the trunk. Moving backward in time—or from the tips to the trunk—you encounter places where two branches, or populations, were descended from the same ancestor. The places where the branches split represent events in settlement histories in which two populations split, often because of a migration to a new place.
These events provide key insights into what geneticists call "founder effects" and "population bottlenecks," which are extremely important for understanding disease susceptibility. For example, if there is a specific condition in a population at the trunk of a branching event, then populations on islands that are settled later will have a higher chance of presenting that same health condition as well. Founder populations have provided key insights into rare population-specific diseases. Some examples include Ashkenazi Jews and susceptibility to Tay-Sachs disease and Mennonite communities and susceptibility to maple syrup urine disease (MSUD).
This research also sheds important light on colonialism. As European settlers arrived in the Pacific in places such as Hawaii, Tahiti, and Aotearoa (New Zealand), they didn't just bring the printing press, the Bible and gunpowder, they brought deadly pathogens. In the case of many Indigenous peoples, historical contact with Europeans resulted in a population collapse (a loss of approximately 80 percent of an Indigenous population's size), mostly as a result of virgin-soil epidemics of diseases such as smallpox. From Hernán Cortés to James Cook, these bottlenecks have shaped the contemporary genetics of Indigenous peoples in ways that directly impact our susceptibility to disease.
By integrating digital sequence information (DSI) from both modern and ancient Indigenous genomes in genetic regions such as the human leukocyte antigen (HLA) system, we can observe a reduction in human genetic variation in contemporary populations, as compared with ancient ones. In this way, we can observe empirically how colonialism has shaped the genomes of modern Indigenous populations.
Today fewer than 1 percent of genome-wide association studies, which identify associations between diseases and genetic variants, and less than 5 percent of clinical trials include Indigenous peoples. We have just begun to develop mRNA vaccine-based therapies that have already shown their ability to "save the world." Given their success and potential, why not design treatments, such as gene therapies, that are population specific and reflect the local complexity that speaks to Indigenous peoples' unique migratory histories and experiences with colonialism?
Finally, genomics also has the potential to impact the politics of Indigenous rights and specifically how we think about the history of land stewardship and belonging. For instance, emerging genomics evidence can empirically verify who first lived on contested territories—e.g., indigenous groups could prove how many generations they arrived before colonists—which could be used in a court of law to settle land and resource repatriation claims.
Genetics gives us insights into the impact of both our peoples' proud history of migration and the shameful legacy of colonialism. We need to encourage the use of these data to design treatments for the least, the last, the looked over and the left out, and to generate policies and legal decisions that can rectify the history of injustice. In this way, genomics can connect where we come from to where we will go. Once used to make claims about Indigenous peoples' inferiority, today the science of the genome can be part of an Indigenous future we can all believe in.