Hurricane Is a Natural Selection Experiment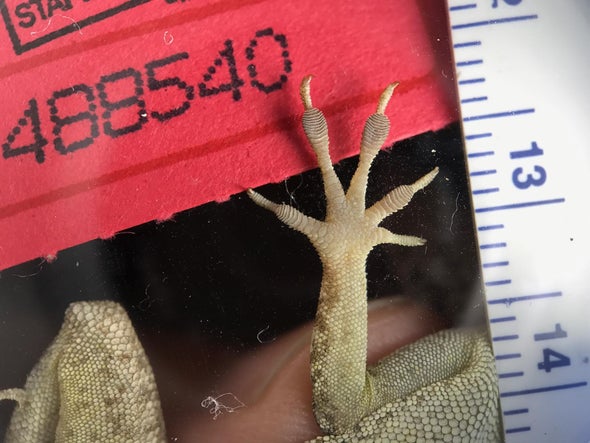 When Hurricane Irma blew through the Turks and Caicos, lizards with shorter hindlimbs lucked out. Jason G. Goldman reports.
At about 7:30 P.M. on September 7, 2017, Hurricane Irma reached the Turks and Caicos Islands. By the next morning, the neighborhood called Blue Hill was gone. And on South Caicos Island, 75 percent of rooftops were obliterated. Two weeks later, Hurricane Maria followed in Irma's destructive footsteps.
And Harvard University biologist Colin Donihue happened to be there a few days before the hurricanes blew through.
"The Turks and Caicos islands is home to a couple of different endemic species of lizard, that's lizards that are only found there. We were interested in one in particular, called Anolis scriptus, the Turks and Caicos anole."
The mission of that first expedition, before the two hurricanes, was to assay the lizard population in anticipation of a program to eradicate the islands of invasive rats—which threaten the lizards. This work included taking detailed measurements of the bodies of lizards they trapped and released.
The researchers intended to return several years later, after the rats were gone, to re-assess the lizards. But that plan changed.
"We realized after the hurricanes had come through that we had a really serendipitous opportunity to test this question of whether hurricanes can act as agents of natural selection on wild populations in their path. Now this had never really been asked before, because hurricanes are just really hard to predict…we just happened to be in the right place at the right time to have that baseline data."
Which is why he and his team returned to the archipelago…just six weeks after his first visit.
They expected that lizards with longer limbs and larger toe pads would be the ones better able to cling to trees and therefore more likely to survive the storms. And they were almost right. Longer front legs and larger toe pads indeed helped. But shorter hindlimbs were actually better. The results are in the journal Nature. [Colin M. Donihue, et al., Hurricane-induced selection on the morphology of an island lizard]
To figure out these counterintuitive findings, the researchers conducted an experiment in a hotel room. They rounded up some lizards, gave them a perch, and used a leaf blower to mimic the effects of high winds. They set up a net to catch any lizards that lost their grip.
As the artificial wind blew, the lizards moved so the perch took most of the air flow. But their hind legs would stick out—and if those rear limbs stuck out too far, they acted as sails.
"Eventually those back legs were blown off the perch, and the lizards were just holding on with their front two legs. And they could only hold on like that for so long as the wind speed increased further and further, until they were blown off the perch and into the nets."
So shorter back legs gave a survival advantage. A trait that might be passed on to the next lizard generation.
—Jason G. Goldman
[The above text is a transcript of this podcast.]