Our Noise Bothers Overlooked Seafloor Critters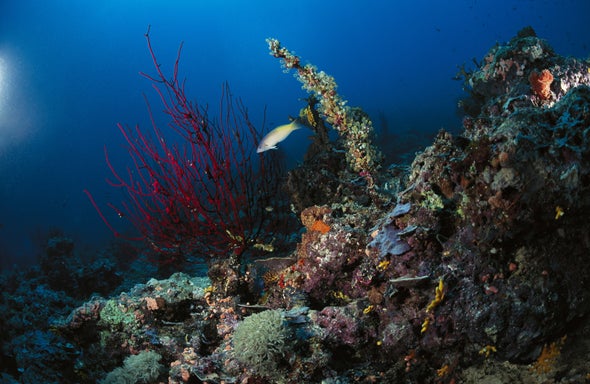 Creatures that live on the seafloor play vital roles in marine ecosystems, but human-made noise can alter their behaviors.
Stick your head underwater and you'll quickly discover that the ocean has a soundtrack. Waves crash, whales sing, and occasionally, an underwater earthquake rumbles from the depths. Over the last century, however, human activities have added to the din, with consequences for marine mammals and fish.
Now, a team of researchers has investigated whether noise pollution also affects the behavior of critters that live on the seafloor. These animals might be small, but they play vital roles in marine ecosystems. For instance, they churn up ocean sediments and release nutrients that fuel the entire marine food web.
"So in terms of their vulnerability to sound, they've been completely overlooked." Martin Solan, a marine ecologist at the University of Southampton in England.
Solan and his team tested the reactions of common bottom-dwelling creatures to sounds like the hum of ship engines and the clanking of underwater construction. Their test subjects were Manila clams, brittle stars, and lanky lobsters known as langoustines.
The researchers found that while the brittle stars seemed impervious to the racket, the other animals reacted strongly to certain human-made sounds.
"If you'll excuse the pun, the clam kind of clammed up. It closed its valve and was pretty much stationary throughout the experiment. The lobster again stopped making its burrows and kind of cowered in the corner, and clearly wasn't happy."
The study is in the journal Scientific Reports. [Martin Solan et al, Anthropogenic sources of underwater sound can modify how sediment-dwelling invertebrates mediate ecosystem properties]
Solan ran the experiments for seven days. So he doesn't know if the animals could have eventually gotten used to the noise. But he says the results are still concerning, because sound can travel great distances underwater, potentially affecting the behavior of entire populations of bottom-dwelling animals.
"If that behavior is important for controlling certain ecosystem processes, like for instance nutrient cycling, it's then reasonable to suggest that fundamental aspects of the ecosystem may well change in ways that we currently don't appreciate."
There might be ways to limit animals' exposure to noise by absorbing or deflecting the underwater sounds. But Solan says that scientists first need to study how noise pollution reverberates through marine ecosystems, all the way down to the seafloor. In other words, how the hubbub permeates the glug-glug.
—Julia Rosen
[The above text is a transcript of this podcast.]