Submerged Lost City Really Bacterially Built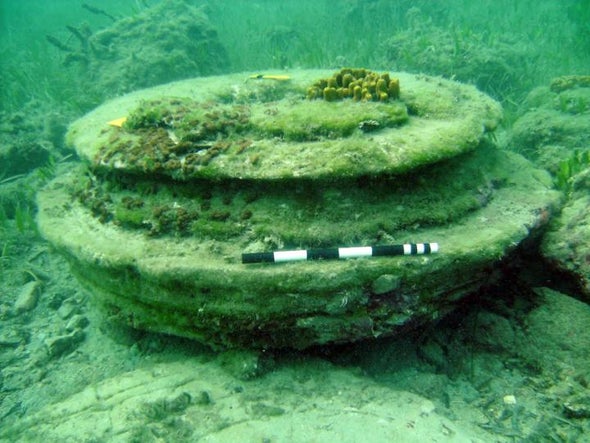 What looked like human-made structures underwater off Greece turned out to be millions-of-years-old concretions deposited by bacteria.
Tourists snorkeling off the Greek island of Zakynthos in 2013 thought they had made a fabulous discovery: the remains of a lost city. They saw what appeared to be paving stones and the bases of columns in the blue water. But when the Greek government sent in researchers, they didn't find any other remnants of human activity, such as pottery. So scientists at the University of Athens and the University of East Anglia in England teamed up to investigate.
Julian Andrews, professor of environmental sciences at East Anglia, at first questioned his Athens colleague, geologist Michael Stamatakis.
"When I first saw the pictures I said to Michael, 'are you sure they're not real?' Because they really do look like columns. And he said, 'No no, definitely there's definitely something going on here more than more than that.'
After analyzing the mineral content of the formations, Andrews agreed.
"So what we have here is essentially the byproduct of bacterial reactions. So they happen to look rather like human artifacts: buildings, columns, pavements. But they're actually examples of what we call concretion, this mineral that precipitates in the sediment."
They published their findings in the journal Marine and Petroleum Geology. [Julian E. Andrews et al., Exhumed hydrocarbon-seep authigenic carbonates from Zakynthos Island (Greece): Concretions not archaeological remains]
The bacteria responsible for the formations thrive near seeps—usually found in much deeper water than in this case—that vent gases such as methane. The microbes break down the methane as fuel. That act sets off a chain of reactions that leads to the creation of dolomite—basically a natural cement. The bacteria got to work on these formations long before Ancient Greece existed—or modern humans, for that matter.
"It looks like they could be as old as three or four million years old. So these would have been buried in the sediment millions of years ago and then have been eroded or exhumed by currents in modern coastal waters."
Underwater archaeology fans shouldn't be put off just because these ruins were built by bacteria.
"I think they're very beautiful things to see anyway, so it's still a great place to go snorkeling. And also when you build structures like this, where you have sort of columns and cavities and crypts and so forth, these are very good places. They're rather like reefs really…so I think people can enjoy the natural formations. It's just amazing how you have, how similar they do look to human remains and artifacts."
—Cynthia Graber
[The above text is a transcript of this podcast.]