The Science of Soldiering: Mary Roach's Grunt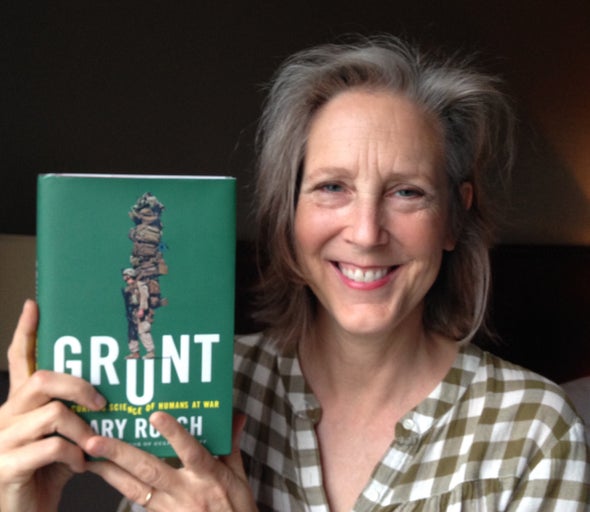 Best-selling science writer Mary Roach talks about her latest book, Grunt: The Curious Science of Humans at War.
Steve Mirsky: Welcome to Scientific American's Science Talk, posted on August 4, 2016. I'm Steve Mirsky. On this episode:
Mary Roach: So we approach the table, and he looks at us, and so I dive in. I'm like, "Oh, hi, I'm Mary Roach, I'm doing this blah blah blah, and I wanted to talk to you. It's going to seem like a really silly topic, but I wanted to have a conversation about diarrhea." And he goes, "It's not silly. You can sit down."
Mirsky: As you heard, that's Mary Roach. She's the best-selling author of such entertaining and informative works as Gulp: Adventures on the Alimentary Canal, and Packing for Mars. Her latest book is Grunt: The Curious Science of Humans at War. She was visiting New York City recently, so I visited with her at her SoHo hotel to talk Grunt.
I don't know if you know this, Mary, and we've known each other a long time. I don't know if you know both my parents were in the Marine Corps.
Roach: Both of them?
Mirsky: Yes. My mother was also –
Roach: Your mother was on the front lines?
Mirsky: Well, that was after she got out and was trying to raise –
Roach: Oh, yeah.
Mirsky: Me and my siblings. So both my parents would have, I think, been very interested in your book, especially the parts that have to do with the Marines. There's a section in the book where you talk about – you're always talking about diarrhea in all your books, pretty much, or other bodily functions.
Roach: That's not true. Well, diarrhea has never had its moment in the spotlight. I had a whole chapter on constipation in Gulp. And diarrhea's like, "Hey, you give a whole chapter to constipation; what about me?"
Mirsky: That's right.
Roach: What am I?
Mirsky: What am I, chopped liver?
Roach: Kind of, sort of.
Mirsky: And in Packing for Mars, you talk about going to the bathroom in space. So here it's time to talk about diarrhea, and there's a very telling anecdote about the fact that the Navy gets baby wipes, and the Marines have to tear off –
Roach: Part of their T-shirt. Exactly. I'm sitting in this DFAC, the dining facility at Camp Lemonnier with this diarrhea researcher.
Mirsky: And this is in Africa?
Roach: This is Djibouti. Diarrhea researcher is there, and we are sitting at breakfast. He's having conversations over meals, usually, with people about diarrhea. And this was a Marine sergeant, and the topic came around to the fact that, in fact, there is a combat ration toilet paper. It looks like a napkin; they're compressed. It's actually a fair amount of toilet paper, but not if you have diarrhea. So yeah. The Marine Corps – the Navy guy's like, "We used to pack baby wipes." And the Marine goes, "Eh, we would just tear off a piece of our T-shirt."
Mirsky: And that pretty much sums it up. But why are we talking about diarrhea?
Roach: Specifically at Camp Lemonnier, because that is a – it's near Somalia, Yemen – it's a lot of counterinsurgency stuff, so there are a lot of special operations guys going in and out there on their secret high-risk missions. And those tend to take place off the big bases, where there's not clean water or refrigerated food. And these guys get diarrhea at twice the rate of everybody else. And the everybody else rate is pretty high – 77 percent of the folks in Iraq, I think it was 2003 to '04, 77 percent had diarrhea, 40 percent of them bad enough to get medical treatment. So soldiers are kind of like hardcore backpackers. You know, they're out there where you don't have all the nice amenities of home.
Mirsky: And 32 percent –
Roach: Yes, 32 percent – thank you, I forgot that – were in a situation where they couldn't get to a toilet in time. And you could imagine if you're there to take out Osama Bin Laden and you've got to go, "Hey, hold up. I gotta –" no. So it was this – diarrhea is a silly topic, but it's not silly if it hits you and you're in kind of a – you're on a critical mission. So my critical mission was to find special operations guys who would have a conversation about this odd topic. And these guys are off on their own – they're in the restricted zone; they only come out at mealtime to the rest of the base, because they don't have their own dining facility. So that put me in the position of having to approach big, scary special operations guys to have a conversation over dinner about diarrhea. Which was kind of a strange reporting challenge.
Mirsky: And this fellow that you approached and wound up talking to you about it, admitted that he had just let fly in the midst of a mission?
Roach: Yeah. First of all, the public affairs guy named Seamus, he was this very nice young guy. I was like, "You have to come with me. You've got to introduce me," so we crossed the dining facility like nervous fifth-graders at a dance.
Mirsky: This guy's sitting by himself.
Roach: He's sitting by himself. He's like the big, virile, omnipotent, beard, shaved head – just central casting for special operations.
Mirsky: And the beard lets you know that it's special ops, too.
Roach: That's how you know. You can pick them out. They're the only guys who have beards, because they have to fit in with the local population where they're going, and be respected and they gotta look like men look in that culture. And they're special. They get to do – they get to grow a beard if they want to grow a beard. So a lot of them have beards.
Mirsky: So you're approaching Jesse Ventura, basically?
Roach: Yeah, exactly. So we approach the table, and he looks at us, grabs his tray and says, "I'm done." And Seamus goes, "Oh, excuse me. Do you mind if I ask you, what line of work are you in?"
Mirsky: What line of work are you in?
Roach: And he goes, "I'm leaving." And so I dive in. I'm like, " Oh, hi, I'm Mary Roach, I'm doing this blah blah blah, and I wanted to talk to you. It's going to seem like a really silly topic, but I wanted to have a conversation about diarrhea." And he goes, "It's not silly. You can sit down." And he couldn't really give the details of the mission, obviously. Seamus goes, "So set the scene. There I was." And he said, "I can't do that for you. It's classified," obviously. But he said, "Yeah, I don't know what you guys want from me. I've soiled my pants in Iraq. I've soiled my pants in Afghanistan. There's no alternative. You're not – there's nothing you can do. You just go."

And Seamus is like, "But then what do you do? Do you just go ahead and do what you've come there to do?" And he said, "It's kind of a life-or-death situation, so yeah." That's what you do. You're not concerned – it becomes a fairly minor concern.
Mirsky: Right. It's not like you were walking down Fifth Avenue and you had an accident and, oh, it's so horribly embarrassing. You're in this life-and-death situation, and that's the least of your issues.
Roach: Exactly. Yeah. So they – they being the researcher and NAMRU-3, which is the Navy Mm-ha-ha Medical Unit.
Mirsky: That's the official name?
Roach: That's the official – yeah. They're looking into a faster treatment regimen, and single dose that would knock it out of you faster, also hopefully less likely to create a situation where you have resistant strains developing. So that's what he was there doing, testing –
Mirsky: And of course diarrhea's a huge medical problem once you get outside the first world, too. We're used to it as a joke, and it's a Pepto-Bismol commercial. But out there in the real world, it's one of the major killers on the planet, especially kids.
Roach: Yeah, two-point-two million deaths a year, particularly in kids. There's one particularly nasty strain of E. coli, enterotoxigenic E. coli – ETEC – which the Navy's working with the Gates Foundation to create a vaccine. Half a million deaths a year. It's not a joke. The Navy has always been pretty – some of the stuff that they've come up with over the years, it's impressive. There was a Captain Robert Phillips, he's the guy who figured out if you add glucose to rehydration fluids, it improves absorption to the extent where you can drink them rather than get hooked up to an IV. And that means someone in a village doesn't have to make their way to a clinic to get rehydrated. So that's a huge advance, when that happened. And yeah, it was great for the military, but it saved a tremendous amount of lives in developing countries.
Mirsky: And when you're drinking your power drink after your workout, you probably have diarrhea to thank as the root of the research that led to that.
Roach: Exactly, yeah.
Mirsky: So one last thing about it: when you finally were taking your leave of the fellow that you approached, he admitted that he had actually been afraid of you.
Roach: Yeah. That's my favorite line in all the reporting I've ever done. He goes, "I thought you guys were NCIS. You scared me." I scared you? Big, scary guy with the beard, yeah, I scared you?
Mirsky: It would never have occurred to you that you could possibly scare this guy. And probably the only thing that would scare him is bureaucracy.
Roach: Exactly.
SMirsky: So why did you decide to write Grunt?
Roach: Grunt came about not because I have any family in the military – well my dad was in actually World War I, because he was born in 1894. I know. He was 65 when I was born.
Mirsky: Wow.
Roach: And he came over here on the Lusitania. He enlisted in World War I. Here's the glorious Roach military history: he got a hernia in basic training and that was it. So he never actually went over to the UK. I think maybe the idea was to get back and see his family eventually; I'm not entirely sure, because he never talked about it. Anyway, so it wasn't a family – I'm not a military brat. I don't have experience in the military or have any people that I know who've served. But I was reporting a story for Smithsonian on the hottest chili pepper in the world – arguably, because there's a lot of arguing about this.
Mirsky: And which one is it?
Roach: The ghost pepper.
Mirsky: The ghost pepper.
Roach: The – yeah, I'm forgetting – I can't believe I don't remember the –
Mirsky: The rival?
Roach: No, the name – what they call it in India. Anyway, the ghost – it's bhut jolokia or something like that. It'll come to me gradually as the years turn. Anyway, while reporting this story in Nagaland in India, somebody said – somehow I had heard that the military had weaponized this chili. They had made a non-lethal weapon, kind of a tear gas. Very effective tear gas. So I thought, well I need to report on that. I went over to the lab of the Indian Defense Ministry to talk to them about the chili pepper, and while I was there, they were showing me around.

There were just some things going on, in particular what caught my eye was the study of a leech repellent. And I thought, "Wow, I really want to report on this, but who would want this? What would I do with this?" And I thought, "Well I don't know. Military science is a little more esoteric than one might think, a little more interesting." And because there's big money behind it, there are a tremendous number of labs and research facilities and things going on, which is kind of what I like to play around in. So that's how –
Mirsky: And a lot of the findings do wind up being used by civilians.
Roach: Well yeah, and the thing that – the targets of the research are things that everyone deals with: hearing loss from loud noise, extreme heat, heat stroke, sleep deprivation, fear. So they're things that we can all relate to. Not necessarily running around with people trying to kill you, hopefully, but it seemed like they're topics that people would be curious to learn about – diarrhea.
Mirsky: Yeah. I'm just thinking, running around with people trying to kill you – not since I left home and my parents were unable to find me anymore. But the Marine training would kick in at the strangest times. There's so much in the book that is unexpected because it deals with things that we just take for granted, like hearing. I was shocked that hearing is the – by amount of money spent, it's the VA's number one issue with veterans.
Roach: Yeah, apparently hearing loss and tinnitus. And tinnitus, there isn't even anything you can do. I don't know what they're spending the money on for – I think it's just a category on some form. Hearing loss and tinnitus. But yeah, $1 billion a year. I wasn't really expecting that either. It makes a certain amount of sense, but it was interesting that it's not bombs going off and gunshots entirely; it's also the fact that – because those are just such brief exposures. With hearing loss, the amount of time you're exposed is so important. We're talking about 85 decibels – you've got eight hours of that exposure, and that's like loud traffic or something or a loud restaurant – eight hours before you start to look at damage. Whereas with an M-16, one shot, you could start to have damage.
Mirsky: That's like 160 –
Roach: A hundred and sixty, yeah. Good deal.
Mirsky: I remember things when I've just finished reading the book the same morning I'm talking to the author.
Roach: Yeah, all right, yeah. So something like a Black Hawk helicopter or a Bradley tank or a personnel carrier, that's a long span of time at 120 or 105 decibels. And if you're not wearing hearing protection – and what complicates this is that you wear hearing protection, and now your situational awareness is shot. You can't hear people talking. You might miss the sound of somebody's charging handle on a rifle around the corner. And most people in that situation would rather lose some hearing than lose their life. So they don't wear the protection when they should, and you can't really blame them. So there's a system that special operations guys have already, which is this big ear cuff that attenuates a loud noise, but amplifies a human voice. Very cool. It's like having bionic hearing without the little dee-dee-dee sound that went on when Jamie – what was her name? The Bionic Woman?
Mirsky: I remember – I know the actress does commercials for mattresses now.
Roach: She does, I know. Lindsay Wagner.
Mirsky: Lindsay Wagner.
Roach: She does, she's doing mattress commercials. But anyway, dee-dee-dee, she had the bionic hearing. I've tried on this – it was unbelievable. There were these guys across the room and I could eavesdrop on them. I kind of wanted a set for the subway.
Mirsky: But it points out the kinds of challenges that we don't think about, because we're not in these extremely stressful and dangerous situations where things that you absolutely take for granted, like you walk down the street and you can hear traffic behind you, or just conversations as you pass a restaurant. But everything becomes crucial in their street operations, and a platoon is walking down a road, and you want to be able to put the earplugs in, but you can't because as you said, then you're risking your life because you didn't hear somebody call out something to warn you.
Roach: Right. And there was a quote from one of the military audiologist guys who said, the military doesn't have a noise problem; it has a quiet problem. He's saying for most of an eight-hour – you're driving along somewhere and for most of the time, there's nothing going on. It's relatively quiet. Maybe the sound of the vehicle. So what, are you going to make – but then if a bomb goes off or a firefight breaks out, there's no warning. You don't have time to put on your hearing protection then. So what are you going to do? Are you going to wear it for eight hours? No, you're not, because it's uncomfortable. It's hot. So that's when they tend to get the hearing loss. Sometimes happens suddenly; they're not wearing hearing protection, because how could they?
Mirsky: And that brings up another thing that you talk about in the book, the dangers in your vehicle of an explosion from below, because so many vehicles – even civilian vehicles – we have side airbags and front airbags. But a friend of mine's daughter just broke her ankle because she was in an accident, and the floorboards came up and broke her ankle.
Roach: Exactly.
Mirsky: But she had protection everywhere else. And you talk about that a lot in the book, and how the guys in the vehicles are supposed to, by regulation, which they ignore because it's impossible, sit in this really weird position for hours. Nobody could do it.
Roach: Yeah, nobody can do that. Yeah. What they did, in these personnel carriers, it used to be the seats were bolted to the floor. So a bomb goes off, all that energy's slamming into – plus it was a flat chassis, so it just slammed straight up, and the chassis slams into your feet, and all of the energy gets transferred because the seats are bolted to the floor. And now they're not; they're kind of floating. They've got a suspension that – shock absorbers, basically, and other things that mitigate that energy.

But in order for that to work, the seats, all that business with the seats, you can't have your feet resting on the floor. Your feet have to be resting on the rungs of the guy – the seat of the guy across from you. So one soldier's got to have his legs – one's legs are straddling the other. You're not going to sit like that for five, six, seven, eight hours. It's not going to happen. Hopefully whoever's driving would know, okay, this is a bad stretch here; get into position. But it would be better if you could have a vehicle that would deflect that energy.

So now they do have – they've got chassis that are shaped differently to deflect – like V or a double V – so it deflects the energy out to the side, so that helps a lot. But the frustrating things for these folks who are trying to make the vehicle safer, is that by the time they figure that out – they figure out how to build a crash-test dummy for underbody – the force coming up from below, which they're doing now, but it's a long process involving cadaver trials – by the time they get everything worked out and they figure it out, the conflict has moved on somewhere else, and who knows what that army or those terrorists or whoever it is, are going to throw at you?

And now you have to deal with that. So you come into a conflict with all the equipment and the vehicles you had for the last conflict, and now maybe none of them are really going to help you. And that's what happened. We brought Humvees into Iraq, and they just – it was bad news. Nobody was prepared for roadside bombs.
Mirsky: They were prepared for –
Roach: Rifle fire. And you could plate the vehicles with, I think it was MEXAS – it's a ceramic something or other mix. Anyway, it's great for rifle fire.
Mirsky: And rocket-propelled grenades, you talk about, they were prepped for that, but not for the IEDs.
Roach: Not for IEDs. Even RPGs, the MEXAS was not helping. They ended up with slat armor, which was kind of a cool low-tech – kind of looked like subway – like the sidewalk grating that they would put around the vehicle, just like fencing. It looked like livestock fencing. But the slats were just wide enough to catch the nose of an RPG and stifle it. So they'd come back with these RPGs sticking out of it. But then roadside bombs came along and got bigger and bigger, and then they started burying them in the roadway, and they had to come up with something else.

And things move slowly in science, and particularly in military science, because it's a big bureaucracy; it's a big lumbering thing. And so insurgents change quickly. The scenery changes. The threat changes. So how do you keep up with that?
Mirsky: Yeah. It's like fighting bacterial infections. The bacteria can evolve much faster than the host.
Roach: Exactly.
Mirsky: In the book, you referred – I forget how you described when the vehicle would come back to camp with all the –
Roach: The RPGs –
Mirsky: Sticking in it. How did you put it?
Roach: I think I compared it to a hedgehog.
Mirsky: Right, that's what it was.
Roach: It's these things sticking out. Or like – there's this – I don't know if it's renaissance or whatever; have you ever seen those wound man – those drawings from medieval or renaissance times where it's a naked guy and he's got every kind of sword, hatchet, knife – everything sort of sticking out of him? Anyway, kind of reminded me of that.
Mirsky: Sort of like that. And another thing that we take for granted is going to sleep. And on a submarine, people might not know, you probably don't even have your own place to sleep on a submarine. You're going to share that place – I don't mean share at the same time – but where you're sleeping from midnight to 8:00, somebody else is sleeping from 8:00 to 4:00, and somebody else is sleeping from 4:00 to midnight. There's no – I mean, people on the space shuttle might have more personal space than people on submarines.
Roach: Right. It's called hot bunking. It depends on the sub and the size of the crew. Sometimes some of them will have to be doing that, probably the lower-ranking ones. And that sucks for several reasons. You have no space to call your own on a submarine. And it can be a very small space, as long as it's your space. So psychologically that's kind of unpleasant. I was on a larger sub; I was on a ballistic missile submarine where everyone – they didn't necessarily have a bunk. Some of them were bunked out between the Trident missile silos, which is a strange place. Oddly, the best, most restful place to be, because it's quiet. There's not a lot of hustle and bustle, as long as the missiles aren't being launched, in which case you won't get a good night's sleep.
Mirsky: Anyway.
Roach: Anyway. Anywhere on the planet.
Mirsky: You have a picture of a fellow getting into the bunk between the missiles in the book.
Roach: Yeah. Between some torpedoes, yeah.
Mirsky: Torpedoes, okay.
Roach: Yeah, they've done that. They will throw a bedpan anywhere – not bedpan – it's called a bunk pan. Not a bedpan. It's just sort of a pallet to sleep on. And any space you can claim, that'll be your little bedroom there.
Mirsky: But not your bathroom. We'll just be clear. When you said bedpan, it has nothing to do with that.
Roach: No, no. I think it's bunk pan, they call it. Just something to put a mattress down on, yeah. We had a close call when I was on – every time the sub would surface, because you can't see directly overhead; you're sort of scanning with the periscope around and around. You have no lights, and you're not emitting sonar. It's passive sonar, because the whole idea with a ballistic missile submarine is to be stealthy, so have nobody know where you are, because this is a chunk of the US nuclear arsenal, and the whole idea is to keep it in a place where nobody knows where it is except the handful of people at the Pentagon who know where it is.

So you're traveling blind, and you're surfacing – you've got to make sure you're not surfacing directly into another vessel, and that's happened. There was a case where a US submarine came up under a Japanese fishery training vessel with high school kids who were training. There were lives lost, and it was – the Maru, I think it was called. Anyway, it was awful.
Mirsky: That was not that long ago, right?
Roach: No. It was not that long ago, no.
Mirsky: Within ten years, maybe?
Roach: Yeah. So it's this stressful – we were surfacing in a commercial shipping lane, so there were a lot of vessels around, and if they happened to have their engines low or off, you don't – it's not getting picked up on the sonar. You can't see them until you're right under them. And that's a – a submarine is a great big thing. You can't swerve or stop slowly. It's like an 18-wheeler on a freeway; you can't just slam on the brakes and hope to stop in time. So they could be a mile off and they'll call it a close call.
Mirsky: Yeah, because it's difficult to maneuver and stop when you're in the water and you're a big vehicle.
Roach: Right.
Mirsky: But what was your close call?
Roach: It was some – we were surfacing, and again, it was a mile or two. It didn't seem to me like a close call, but it was a surprise. People didn't have – they weren't tracking it. Normally when you're surfacing, you've got all these data points of vessels that you're following. And you're having to calculate. There's a computer that's calculating how far off, but it's not that accurate. It was a lot closer than anybody anticipated. So we were fine; it wasn't as though you could see them, even when we surfaced. But it took everyone by surprise.
Mirsky: Sure. It's a close call like airplanes can have a close call, and miss each other by miles. But they're moving so fast – yeah, it's actually just a few seconds or less.
Roach: Yeah.
Mirsky: I'm sure that there are generals and admirals who make excellent decisions. We don't talk about them that much in the book. You talk about some questionable calls by people who don't seem to be onsite. For example, the current working uniform color in the Navy.
Roach: Oh yeah. I noticed when I was in Djibouti with this commander then, now captain in the Navy. Navy folks day-to-day wearing a uniform with camouflage print, but blue. And I said, "So maybe I'm missing something here, but what would you be blending in with?" And he's like – he looks down at his pant leg and he's like, "Yeah. That's so if you fall overboard, no one will see you." And as it turns out, it was just – camo became so popular, not just in the military but in civilian fashion, camo was cool. It's everywhere, and every conceivable item that you might buy, you can buy it in camo print. And the Navy's like, "Hey, we want camo, too." So the daily working uniform is that kind of baggy pants and top in a blue camo print. It's kind of funny.
Mirsky: And then there was the story about the beret for the Army guys.
Roach: The beret – yeah, the beret was the cover, as they say, the hat, the headwear for the basic Army combat uniform – a black wool beret. Which is hot, heavy, not easy to stuff in a pants leg pocket, doesn't have a visor to shield you from the sun. There's a lot of reasons to really not want to wear a beret. But somebody in the higher echelons really dug the look.
Mirsky: Yeah.
Roach: And it's like, "We're going to go with the black beret. The wool beret."
Mirsky: But that has changed back, too?
Roach: That has. It took about ten years. Now the patrol cap, which is a lightweight cotton visored cap that you can stuff in your pocket, that's back, and most people are relieved.
Mirsky: It's a baseball hat.
Roach: It's a baseball hat, but very lightweight. Scrunchable.
Mirsky: Yeah. So you never know who's going to make decisions based on, "Oh, I think it just looks cool," and really affect people in a negative way. There were a couple of places in the book where, as you're not military, and you would say things that people would gently point out that you were incorrect. For example, you were in a – maybe it was a personnel vehicle, and you said, "Well at least you still have cup holders."
Roach: Yeah. I truly believed them to be cup holders. And the woman I was with said, "Mary, those are rifle holders." Yeah. Because we were talking about – because a personnel carrier, it's really stripped down. If they're going to add weight, it's got to be protective, it's got to be shielding or that thick ballistic glass. So they're always under pressure to strip out amenities, and it's a very bare-bones vehicle. And I was like, "Oh, but you still have cup holders, that's so nice." No. No.
Mirsky: No, those are for rifles. And when you – we're not talking politics. We're not talking about whether or not these people should have been deployed to a particular place. But when you're around these folks, and I'm just speaking for myself now, they're really impressive. You just talk about their physicality sometimes, these Marines really look like superheroes. But also just the dedication and commitment of these people.
Roach: And physically, the day-to-day. Not just – set aside that someone's shooting at you, or you may step on a large explosive device at any given moment. Setting all that aside, walking around wearing body armor, carrying the weight that they're carrying, this is like a total of 100 pounds, plus it's hot. It may be 100-some degrees. And you're doing physical exercise. I was at the Consortium for Health, and military performance was doing a heat stroke, heat injury study. And they have this thing called the cook box, where they simulate situations, and I was in there with these two Army Rangers, who are unbelievably fit individuals. And we're on – it's 100 degrees Fahrenheit; the treadmill is at an incline. At a certain point, the researcher had me put on a pack. And it was only 30 pounds in that pack, and I lasted seven minutes. It was pathetic. And these guys were like, "We're going to go do a real workout later. We're going to do CrossFit. After we get something to eat, we're going to go do a real workout." Unbelievable. Really nice about it; not denigrating me. They're like, "Look, the first time I put on a rucksack, I hated my life. You don't come out of the womb wearing a rucksack, and you get used to it." I can't imaging getting used to that, or the heat, or the dirt. It's a really, really hard life. I just remember the first time picking up body armor. This is something you're wearing. This is an outfit; it's not workout equipment. It's your outfit. And that thing is so heavy, I can barely lift it.
Mirsky: So are you already at work on your next book?
Roach: No. I don't know. The human body, there's only so much terrain I can mine.
Mirsky: That's the through line, isn't it, for all your books?
Roach: It has been. So no, I don't know what I'm doing next.
Mirsky: Is that exhilarating? Frightening? Nothing?
Roach: It's fine. It's fine. It's just fine.
Mirsky: That's great. The book deals with some heavy subjects, but it's still fun and funny at places. Not funny in a snide way at the expense of any of these people; just funny in terms of the strangeness of some of the things we do, and some of the outcomes that we run into.
Roach: And some of the historical chapters. The OSS and their efforts to create the most vile smell imaginable.
Mirsky: Right, exactly.
Roach: That I love. And that work – malodorant non-lethal weapons – goes on today at Monell Chemical Senses Center. So that was a fun chapter. So yeah, sometimes the historical stuff is where there's a little more latitude for humor. Or I'm the butt of a lot of my jokes, because I am such a pogue, is the military term for a clueless outsider, and I'm trying to fit in, and not fitting in.
Mirsky: Yeah, that reminds me, there was an episode of 30 Rock where Alec Baldwin went to work for the government briefly, and runs into this plan to make a bomb that would go off and put out pheromones so that all the guys would turn gay. And it turns out in your book, that's – they're really working on something like that.
Roach: It was a nonlethal weapon brainstorming session at Wright-Patterson Air Force base, and this was in the '70s, I want to say, or maybe it was early '90s. And yeah, I found the guy, and he mostly does bird strike. He looks at how to make a jet canopy withstand a turkey vulture hitting it, or whatever the bird is. But he got invited to this – because he likes to brainstorm, he got invited to this brainstorming panel, and one of the things that was in that document that all the names are redacted from, one of the things that was in there was to find a chemical compound that would create amorous feelings. And I interpreted it, "Oh, you mean so that it would create brotherly love and fondness for the enemy?" he goes, "No, no. It's to sap morale because you're always afraid Charlie's going to come in your foxhole and put the moves on you." So yeah, I could find no evidence that any money had been spent on this. It's a brainstorm. And that document also includes somehow directing bees to attack the enemy, small rodents – can we direct them to infest the enemy's – you know, it's a brainstorming session. So anything goes. And that fell into the hands of Marc Abramson Ig Nobel Awards. I think he actually –
Mirsky: Marc Abrahams.
Roach: Marc Abrahams, thank you. Yeah, Marc Abrahams. I think they gave it – well, not to the guy that it is, but to someone else, his superior. But enough time had gone by where Malcolm was willing to own up to the idea. So, "Yeah, okay, that was me."
Mirsky: Amazing stuff. Grunt: The Curious Science of Humans at War. Mary Roach, always great to talk to you. Thanks.
Roach: Thanks.
Mirsky: That's it for this episode. Get your science news at our Web site, www.scientificamerican.com, where you can follow our coverage of the science of the Olympics. Follow us on Twitter, where you'll get a tweet whenever a new item hits the Web site. Our Twitter name is @sciam. For Scientific American Science Talk, I'm Steve Mirsky. Thanks for clicking on us.