Special Report
NASA's Curiosity Rover Touches Down on Mars
The car-size Curiosity rover could help answer the big question: Was Mars ever habitable?
Space
After engineers run a months-long setup of the Mars Science Laboratory, now parked in a crater, scientists will take the rover on a nearly two-year journey that includes a visit to a six-kilometer-high mountain
August 7, 2012 — David Appell
Space
The elaborate landing of the $2.5-billion mission went off without apparent incident
August 6, 2012 — John Matson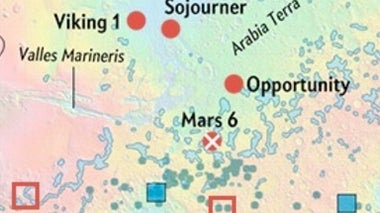 The Sciences
The first man-made object to land on Mars arrived 40 years ago this month, and NASA's Curiosity rover should soon depart for the Red Planet. Here is a look at where humankind's many Mars landers have touched down, and where the planet betrays a history of all-important liquid water. Find out more in Exploring the Red Planet
November 3, 2011 — John Matson
Planetary science is NASA's most successful and inspirational program. It should not be gutted
At 10:31 P.M. Pacific time on August 5, NASA's Curiosity rover will begin the first direct search for habitable environments on Mars
The newest Mars rover, Curiosity, dwarfs NASA's previous rovers in size and scientific prowess. John Matson reports
Welcome to The Countdown, the Scientific American show that counts down the five coolest things happening now in space news.Episode 1: July 26, 2012 Story 5 Galaxies from the early universe usually look kind of lumpy or blobby, but scientists have spotted one with a spiral structure, making it look a lot like our own Milky Way galaxy.See Primordial Pinwheel: Astronomers Spot Oldest Prominent Spiral Galaxy Yet.
The Mars Phoenix mission revived hopes that the Red Planet may be habitable, preparing the way for a new rover to be launched this month
THE WOODLANDS, Texas—Planetary scientists, usually an affable lot, are plenty riled up at the moment.The field is bristling at cutbacks, proposed last month by the Obama administration, to planetary science and especially to NASA's program of robotic Mars explorers.
NEW YORK CITY—"Beyond Planet Earth," the slick new exhibit on space exploration at the American Museum of Natural History, is thoroughly modern. It has an augmented-reality iPhone app that produces hovering, three-dimensional animations.
The sale is a protest of plans in President Obama's 2013 budget request to cut 21 percent from NASA's planetary science budget, and 38 percent from its Mars projects
Mars Pathfinder launches in 1996 Starting this Saturday, a 24 day window of opportunity opens for the launch of NASA's Mars Science Laboratory, now also known as the Curiosity rover.
The incident has become a lessons-learned example of miscommunication in assuring that planetary protection procedures are strictly adhered to
Mars has plenty of minerals that suggest a watery past, but that does not mean that the Red Planet once looked like Earth
Now that NASA's "seven-minutes of terror" have passed safely, the Mars Curiosity rover's exploratory mission is off and running. Over the next two years—probably more, if it's anything like the Opportunity or Spirit rovers—the Jeep-sized rover will explore its new home using a variety of tools.
Two Mars missions are scheduled to launch this month. How have their predecessors fared? Find out more in Exploring the Red Planet
The Curiosity rover is set to begin exploring Mars on August 6. But first it has to land. John Matson reports