Drugged Gut Microbiome Cuts Heart Risk in Mice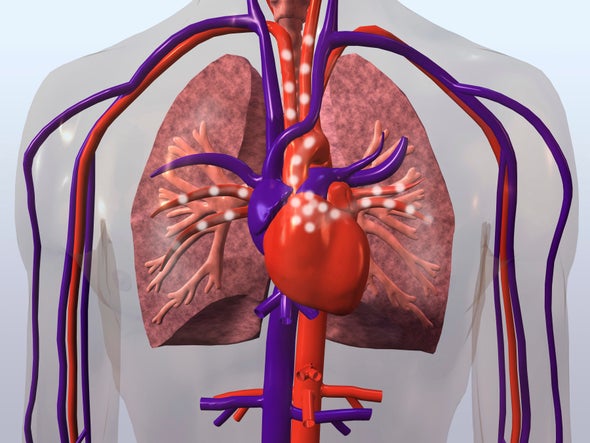 A compound found in extra virgin olive oil and red wine reduced mice's risk of clogged arteries. Christopher Intagliata reports
The microbes in our gut play a big role in helping us digest our food. But as they break down nutrients, they also generate secondary compounds that can influence our health. Take carnitine, or lecithin—substances found in red meat. When your gut microbes break them down, the bugs excrete the waste product trimethylamine, TMA. Which your liver enzymes convert to trimethylamine-N-oxide, TMAO, a substance that ups the risk of heart disease.
But this effect isn't limited to red-meat eaters. "We're constantly feeding our gut microbes these compounds. Even in the most ardent vegetarian or vegan it happens." Stanley Hazen, a physician in preventive cardiology at Cleveland Clinic. "Every time you eat, even when you eat a pickle or a cucumber or a pure piece of lettuce, once you eat something, your gallbladder contracts and squirts some bile into the intestines to try to help digest the food." And even bile, he says, has compounds, like lecithin, that gut microbes digest into TMA.
So why not block the gut microbes from making TMA in the first place? Hazen and his colleagues found a substance that does just that. It's a kind of butanol called DMB, and it's found in extra-virgin olive oil, grapeseed oil, and some red wines and balsamic vinegars. When mice ate DMB, the compound blocked the gut bacteria from producing TMA—which in turn prevented clogged arteries in the animals.
"I kind of like to think of this as a statin for microbes. When we take a statin, or something that blocks cholesterol synthesis in our body cells, we're not killing the cell, we're just preventing the body from making cholesterol. In an analogous way, this is preventing the microbe from making TMA, and that therefore in the host reduces TMAO levels and is reducing diet-induced atherosclerosis." The study is in the journal Cell. [Zeneng Wang et al, Non-lethal Inhibition of Gut Microbial Trimethylamine Production for the Treatment of Atherosclerosis]
As for whether this finding explains the heart-healthy benefits of the Mediterranean diet for humans? "We haven't studied the Mediterranean diet. But you can start connecting the dots. And I think that is an area where future studies need to go." Until then, no harm in a little olive oil—especially if you're putting it on a nutritious salad.
—Christopher Intagliata
[The above text is a transcript of this podcast.]