Editor's Note (7/17/23): This story is being republished because smoke from wildfires in Canada is again affecting air quality across a large section of the U.S.
Smoke from wildfires in eastern Canada is flowing across the U.S. East Coast, triggering air quality alerts in the "hazardous" category in some areas. But what do those air quality alerts mean?
The color-coded Air Quality Index categories you'll find on the Environmental Protection Agency's AirNow website rank air quality on a 500-point scale and are meant to give the public an easy way to understand the health effects of the air around them daily. The lowest numbers on the scale indicate healthy air, and the high end is hazardous.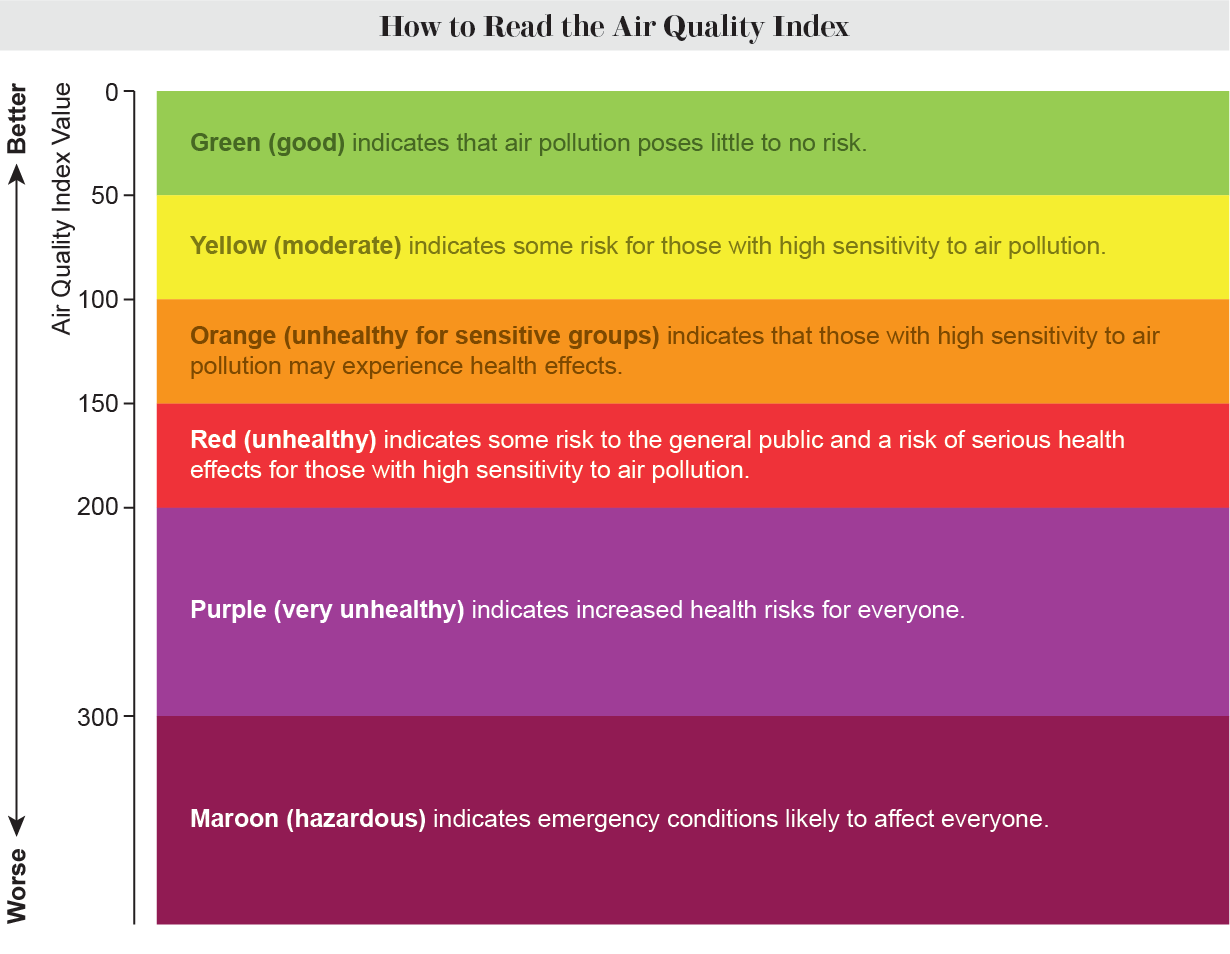 The Air Quality Index considers five measurements of air pollution: ground-level ozone, particle pollution, carbon monoxide, sulfur dioxide and nitrogen dioxide. These pollutants have health impacts, typically involving irritation and inflammation of the respiratory system, which can, in turn, contribute to the development of conditions such as asthma and heart disease.
Levels on the scale are based on how much of the pollutant is present in the air, measured in parts per million, over a specific time period—either an hour, eight hours or 24 hours depending on the pollutant. In cases where one pollutant is more concentrated than the others, the final air quality category is based on the worst pollutant. AirNow's interactive map allows users to check levels of particulate matter of different sizes, as well as ozone, because these types of pollutants can have slightly different health effects.
READ MORE: How Long Will Wildfire Smoke Last, and Where Will It Spread?
While ozone levels are currently high in some areas, particulate matter is the major driver of the poor air quality in the Northeast and mid-Atlantic region in recent days. This is normal for wildfire smoke, which poses its main public health threat via particulate matter, according to the EPA. The smallest particles tracked in the Air Quality Index—those with a diameter of 2.5 microns or smaller—are also the most dangerous because they can be inhaled deep into the lungs and even enter the blood. Exposure to wildfire smoke raises the risk of both cardiovascular and respiratory disease, according to the EPA.
Green is between 0 and 50 on this scale: in this category, air quality is good, with little or no risk from air pollution. From 51 to 100, the air quality is moderate, or yellow, which is considered safe for most people, though some very sensitive groups may be impacted. Between 101 and 150, members of sensitive groups, such as the very young, the very old and people with asthma, or heart or lung disease, start to feel the effects of air pollution. This level is color coded as orange on the air-quality map. Those individuals who fall into the sensitive group will want to spend less time outdoors, take more breaks when active outdoors and watch for shortness of breath and coughing, AirNow says.
READ MORE: How to Protect Yourself from Smoky Wildfire Air
"The longer you are outside inhaling this kind of toxin, the more likely it's going to affect you in the short or long run," says Jorge Mercado, associate section chief of pulmonary, critical care and sleep medicine at NYU Langone Hospital–Brooklyn.
From 151 to 200, air quality enters the red zone, which is unhealthy for members of the general public, who can minimize health risks by reducing long or intense outdoor activities. The next stage, from 201 to 300, is purple, at which point the health risk increases for all groups. The EPA suggests everyone avoid spending long periods of time outside at this level. At 301 or more, air quality is classified as hazardous, represented as maroon, at which point the recommendation is for everyone to avoid physical activity outside. For sensitive groups, a hazardous level means not only staying indoors but following tips for reducing particle levels indoors. As of 6 P.M. ET on June 7, New York City had an AQI of 364 and so was in the hazardous zone, as was Central New York. Meanwhile, Philadelphia, Penn., was in the purple zone with an AQI of 269.
READ MORE: Images Show Wildfire Smoke Choking the East Coast
"Moderate means air quality is a concern for people who are extra sensitive to air pollution, [and] all people should avoid strenuous physical activity outdoors," says Purvi Parikh, an allergist and immunologist with the Allergy & Asthma Network, "whereas hazardous level means all people should avoid being outdoors."
When air quality alerts are active, the best way to protect your health is to stay inside, Parikh says. Children, the elderly, people who are pregnant or immunocompromised and those with underlying heart or respiratory conditions are the most at risk, but at the levels present in the Northeast, no one should exercise or work outside, Parikh says. Running a high-efficiency particulate air (HEPA) filter and keeping windows closed can help keep indoor air safe, she says, while KN95 or N95 masks can block particulate matter outdoors.
"If you must go outside," Parikh says, "wear a high-quality mask."