Flying through a Corpse's Clues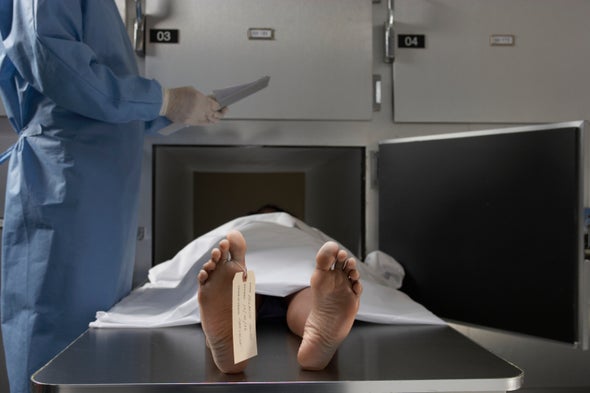 Forensic entomologists can chemically analyze fly eggs from a corpse, which might speed up detective work. Christopher Intagliata reports.
As soon as a person dies, decomposition begins. And the first visitors arrive. "Within five to 15 minutes of death, blowflies or other insects begin to colonize the body." Rabi Musah, an organic chemist at the University at Albany.
She says different species turn up at different stages of decomposition. "Because of that, depending on what entomological evidence you find, you can learn something about when the person died in terms of the timing of the death."
Flies don't tend to stick around when disturbed—by detectives, for example. But they do leave behind eggs. The eggs are hard to tell apart by appearance alone, so forensic entomologists rear them until they hatch, a few weeks later—getting a species ID and, with a little guesswork, a person's time of death.
But Musah has come up with a less time-intensive approach: chemical analysis of the eggs. She and her team investigated that method by first harvesting flies with pig-liver traps stashed throughout New York City. "So it turns out that it's easy to hide pig livers in various parts of Manhattan. There's a lot of foliage and whatnot, so no one knew."
They collected the trapped flies and then chemically analyzed their eggs. And it turns out each species of fly egg has a unique chemical fingerprint—enough to tell the bugs apart without raising the eggs to maturity. And in a useful twist, the technique uses eggs preserved in alcohol—eggs that wouldn't be viable for rearing live insects anyway. The study is in the journal Analytical Chemistry. [Justine E. Giffen et al., Species Identification of Necrophagous Insect Eggs Based on Amino Acid Profile Differences Revealed by Direct Analysis in Real-Time High-Resolution Mass Spectrometry]
Musah and her colleague Jennifer Rosati are now testing the method on a real case. "And once we do that we will be publishing some case studies to illustrate that this is a method that can be used, and hopefully eventually it's something that will stand up in court."
And something that could speed up detective work—or help revive a cold case.
—Christopher Intagliata
[The above text is a transcript of this podcast.]