Wildfires Spike Wine with Smoky Notes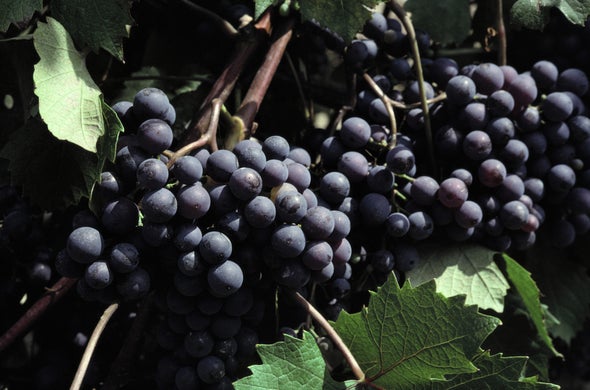 Chemists are working on ways for wildfire-affected winemakers to avoid creating smoky wines. Christopher Intagliata reports.
The fires that ripped across Napa and Sonoma last year damaged some two dozen wineries, and burned others completely to the ground.
"Yeah and also don't forget Chile burned pretty good this year, too. In fact fires there destroyed quite a few old vineyards." Wes Zandberg, an analytical chemist at the University of British Columbia, at the Okanagan campus, right in B.C.'s wine country. "Basically this is a problem in North and South America this year."
Even wineries that are unscathed by fire may suffer from smoke passing through their vineyards. Because it can leave that year's vintage with unpleasant smoky notes.
Zandberg and his team studied that process with an experimental plot of cabernet franc vines—five of which they exposed to wood smoke, and five they left alone.
They found that when volatile compounds in smoke land on grapes, the fruit very quickly sucks the chemical into its skin or flesh. Then it tags sugar molecules onto the smoky compounds, which renders the smoky substances water soluble, and nontoxic. But that chemical conversion leaves the compounds with no scent or taste…, which means winemakers can't detect them in grapes… until it's too late.
"The problem is when you take a bunch of grape juice and expose it to yeast during the fermentation process, the yeast have the required enzymes to cleave that sugar from the smoke-flavored compounds, so it kind of unmasks them during fermentation." Making them once again detectable by nose and tongue.
The findings are in the Journal of Agricultural and Food Chemistry. [Matthew Noestheden, Eric G. Dennis, and Wesley F. Zandberg, Quantitating Volatile Phenols in Cabernet Franc Berries and Wine after On-Vine Exposure to Smoke from a Simulated Forest Fire]
The study was funded in part by a local chemical testing company, which hopes to develop a test for various smoky substances in the grapes, to predict whether so-called 'smoke taint' will be a perceptible problem in the finished wine.
Until then, Zandberg has this advice for wildfire-affected winemakers: "One obvious strategy for minimizing smoke taint in wine, is don't put it in a toasted oak barrel. That's just going to put more compounds in there that give that odor, or flavor."
—Christopher Intagliata
[The above text is a transcript of this podcast.]